Devils Lake Fishing Report is a resource to get you fishing success on Devils Lake North Dakota. You can view our Facebook page here.
Early Bird Gets the Worm on this Week's Devils Lake Fishing Report:
I am a firm believer in the fact that when fishing, the early bird gets the worm.
Getting up early and getting on the water when the sun is just coming up is imperative in my opinion. Sometimes this makes for hectic mornings of scrambling for equipment and what not.
In the mad scramble, often times something of importance gets left behind. On our most recent data collecting adventure, that important piece of equipment was our spinners.
Let's talk about spinners:
We both have boxes crammed with spinners of all colors, all sizes even all shapes, Dakota's, Indiana's, Colorado's. They come in real handy when the bite is skittish. They do not come in handy when one box is in the other pickup and the other is on the spinner-making table at home.
We had in our possession exactly 6 spinners on pike infested waters. I need not tell you how long our Spinner troll lasted. We were soon kicking up the trolling motor to high gear and employing the Salmo hornets and Scatter Rap Deep Divers in 7-8 feet of water.
The wind was blowing out of the South at 15 to 20 and we identified 2 distinct northern shorelines to focus our attention on. The Dalmatian, a.k.a The Dog #5 Salmo would be the lure that won the day. In short order we had our 10 Walleyes, all in that 16-23 inch range.
Watch the water temps:
The water had warmed to a balmy 73-75 degrees and most of the hits were from very active fish. Other colors that worked were white and blue/orange.
I would say that if you are planning a trip to Devils Lake anytime soon, don't forget the spinner box or the line counter trolling rods and box of #5 crank-baits. Devils Lake is loaded with shorelines possessing distinct weed beds and sunken shorelines. These are holding plenty of those eater sized Walleyes right now.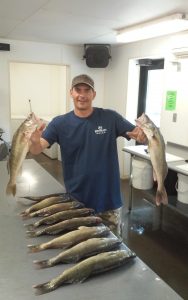 If the spinner/bottom bouncer technique is what you like to do, load up on the hammered gold spinners with leeches and worms and focus on those 10-20 foot ledges. The crank bite on the other hand seems to be in that 6-9 foot range. This is kind of nice because we have not had to break out the lead core yet to get the cranks down there.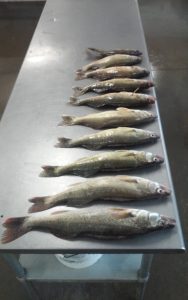 SPECIFIC BAYS and LOCALES for this week's Devils Lake Fishing Report
Mike's lake is still producing nice walleyes but the weeds are starting to take over. Rocky Point and the sunken roads in Bud Bay are loaded with Walleyes right now but they are of the 13-15 inch variety.
Doc Hagen's has fish on the ledges out from the island. Blue bill point seemed to have a lot of eater sized eyes on it. If you like combat fishing head to the Golden Highway, there are fish there but there is a lot of fishing pressure also.
On the Eastern part of the lake east bay weed beds are still holding a lot of mixed sized fish, The south end of Black Tiger is goo but Mattern's Bay is getting tougher to get into. Dead Cow is holding a lot of smaller fish as is Cox's Flat.