We as fishermen are our own best promoters, and promotion of the sport of fishing is vital in getting the next generation involved. Electronics now days are slowly taking precedence over the things that our generation found important, hunting, fishing, even playing outside. Unfortunately, watching 2 or 4 slip bobbers not move for hours on end is not the ticket to get a kid hooked. Shallow water Pike and Walleye action on spinners on the other hand is enough to make even this 'big kid' squeal. Wednesday I had the pleasure of having my little guy our in the boat with us. The Walleye action was there and we did keep 6 nice fish, but the Pike action was non- stop and he was hooked, the grin on the kid tells the story.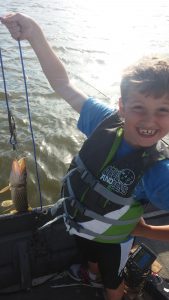 He even went so far as to dub himself 'The Pike Slayer". Truly, it was an awesome afternoon on the water with a good friend and my son.
As I said the Pike action was non-stop, the Walleye action was sporadic. The weeds on the northern feeder lakes are starting to kind of take over, making pulling spinners in some areas difficult. The Walleye action up North usually slows this time of year and that seems to be the case.
Fortunately, the Spinner bite on the big water is really heating up. The last two days helping pre-fish for a couple tournaments this weekend revealed that those 12 to 18 foot ledges are just LOADED with eater sized eyes. We hit up numerous different locations with both weeds and rip rap and rock bottom. The results in all those areas was the same, 13 to 15 inch Eater Walleye after Eater Walleye.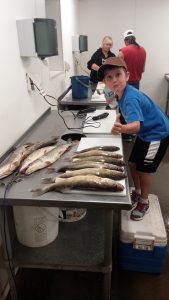 Another development that showed its face was that the WORM is starting to level the playing field with the almighty LEECH. We also picked up a medium perch in 18 feet of water. Things are snapping right now and if you have some kids or your family is looking to get in on some epic Walleye action, Devils Lake is going to rival any fishery around RIGHT NOW!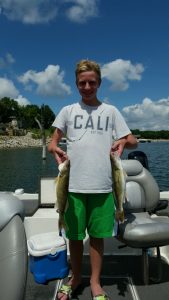 Colors the last two days didn't seem to matter and the fish engulfed many of the hook-ups. We also ran into some guys in the cleaning station at Woodland Resort who were ripping some awesome White Bass for smoking, my rough estimate would be that their average was well over 2 pounds and many were well over 3. They have a lot of smoker time coming their way.
So, if you want to target Walleyes and Perch on spinners or go for some fast paced action with Pike and White Bass on Cranks or spinners, the Big Devil is in mode of 'phenomenal" right now.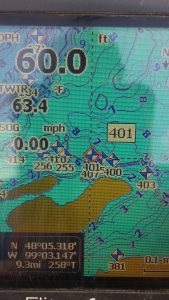 Buy the Waypoints from this Report
SPECIFIC BAYS and LOCALES: Any old shoreline ledge in 12-18 feet of water that we have hit has held fish, every single one. Rocky pt. is holding a lot of 10-14 inch walleyes on that 20-24 foot shelf. The Doc's area has good eaters on the south ledge in 12-15 feet of water. Every weed patch in south 6 mile is holding fish. The weed beds in the East Bay area are loaded with various year classes of Eyes. The Golden Highway has a lot of fish on it, but it is a high traffic area right