Too Cold To Perch Prospect, Hit A Walleye Honey Hole
-50 wind chill is not the ideal weather for drilling 100 holes.  The idea of this has me dreading going out there, so we changed gears for the weekend and decided to hole up on a traditional Walleye Honey Hole to see if we could still get in some good fishing.
We selected one of the Northern feeder lakes for our expedition as they are usually filled with healthy, fat Walleyes.
I have a number of spots on these lakes that just seem to produce year after year due to the fact that although there isn't a whole lot of structure on these lakes, the structure that you can find will hold fish and hold fish for a longer period of time.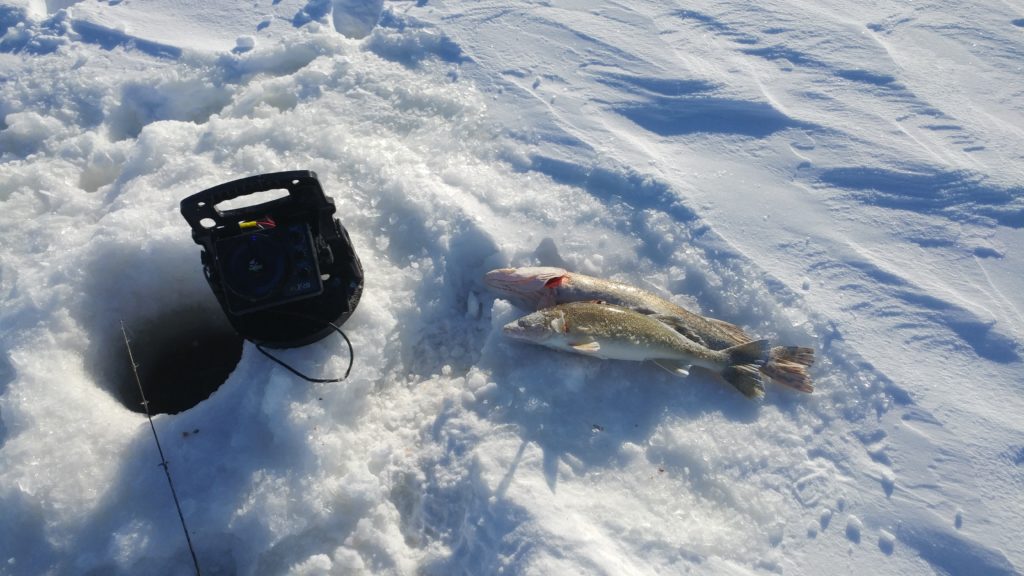 Fishing the Northern feeder lakes isn't quite the same as fishing the main lake.  For one, the fish up there don't follow the 'Devils Lake Golden Hour" rules for Walleyes.
Traditionally, Walleyes bite in the morning and in the evening on the Big Devil and go pretty dormant in the middle of the day.
The Northern Lakes will produce Walleyes throughout the day and in some areas the midday bite is actually better than the morning and evening bite.  This allows for a larger bite window and a person doesn't have to put themselves on the ice in the dark.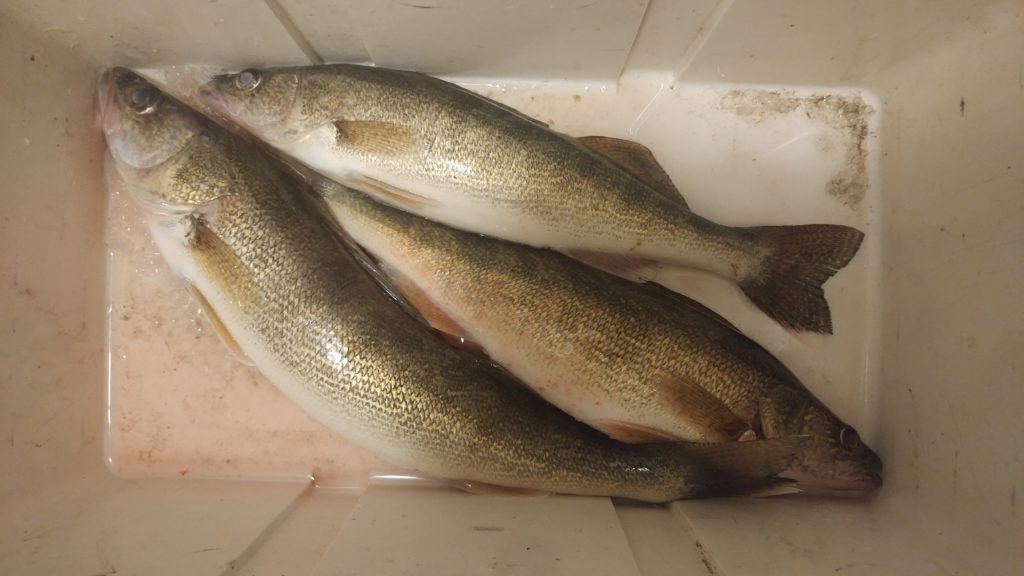 The other exception to the rules is, normally on structure, I would try to fish the tops of the humps and the shallow points of the structure; on many of these waters, the structure is a focal point but the fish don't hold on the tops.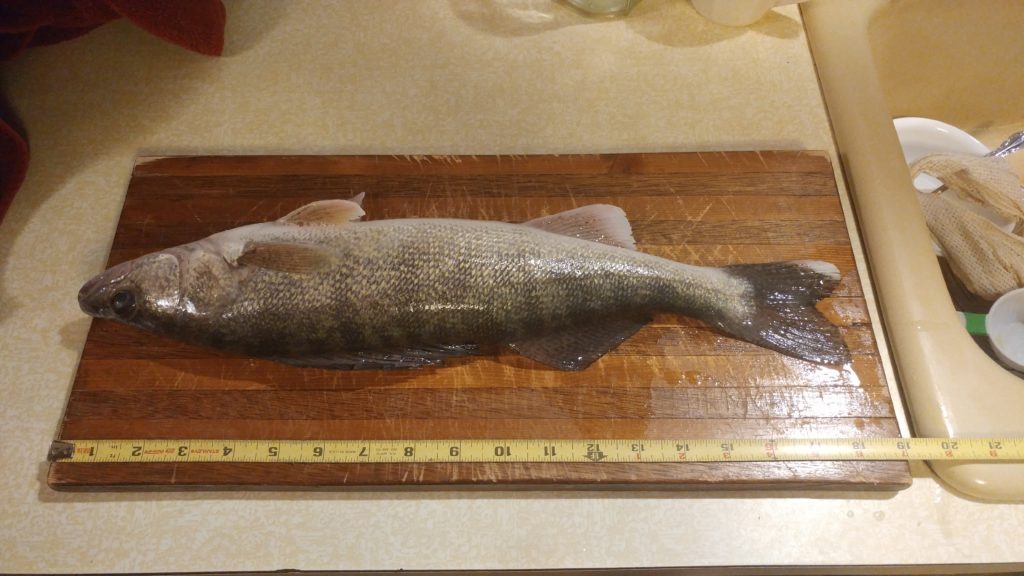 The particular one we fished Saturday and Sunday, the schools use it as an ambush point but travel around it.  There are two things you can do
A. Hole hop and try to travel with them
B. Stay put and wait for them to come around again
With the frigid conditions we decided to stay put and wait for them to make their pass, it would be a beneficial decision.
Saturday- No Wind/Cold Temps-Comfortable Conditions
Family obligations had me waiting until after noon to make my trek to our location and more family obligations gave me only on an hour and a half window.  Going in, I knew that I was basically looking for a spot to set up on, in the morning.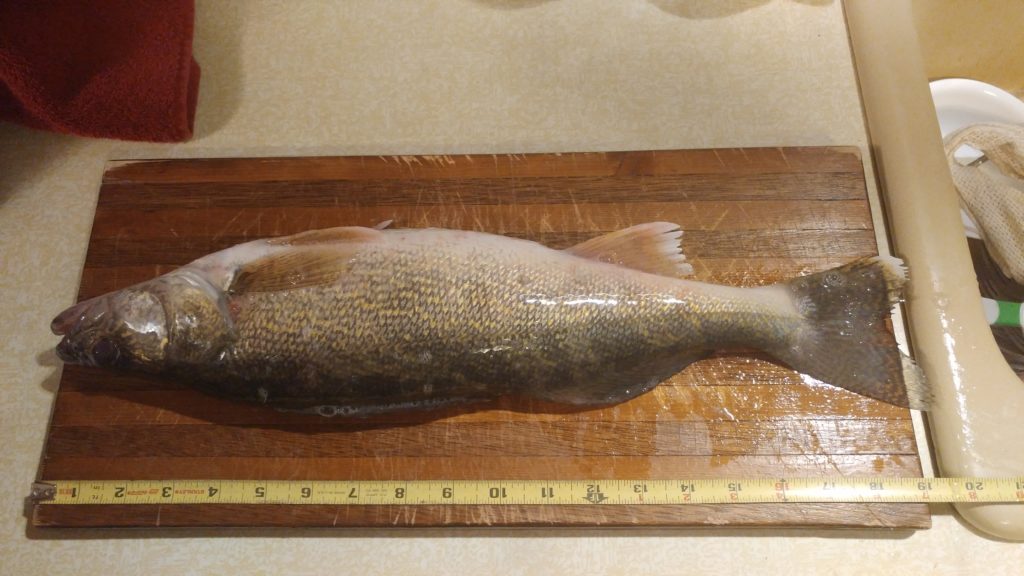 After drilling 6 holes I knew we had selected wisely.  I missed a few bites and lost 2 big Walleyes on bobbers, even getting my hand on one that would have pushed 6-7 pounds.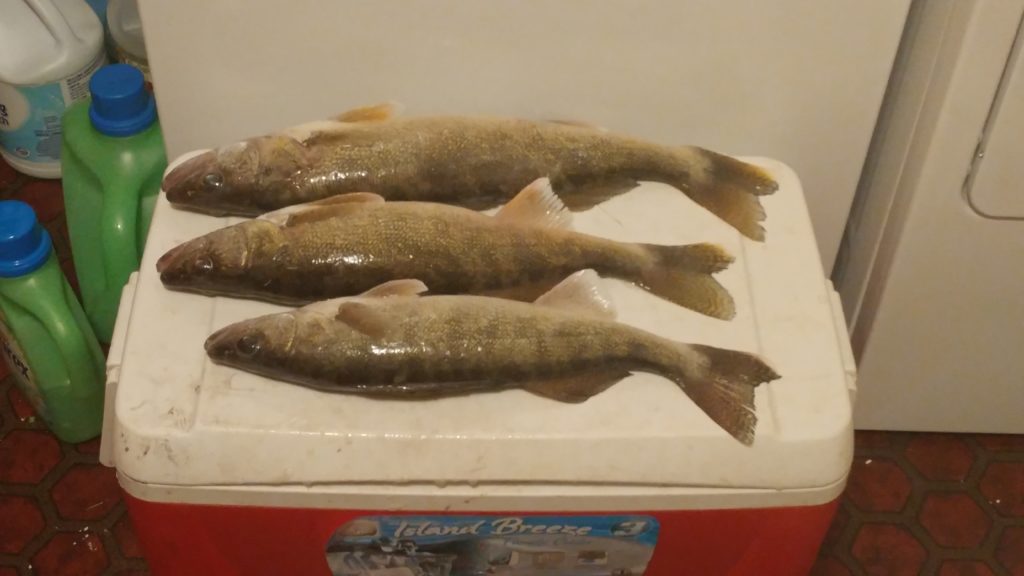 I was able to ice 3 healthy Walleyes and 1 Hammer handle Northern Pike and as I left for the day I knew exactly where I was setting up in the morning.
Sunday- Wind/Cold Temps- Frigid Conditions
Knowing Sunday would be windier and, therefore, colder, I didn't get up and out on the ice until well after sunrise, wanting to avoid dead ice time getting cold for no reason.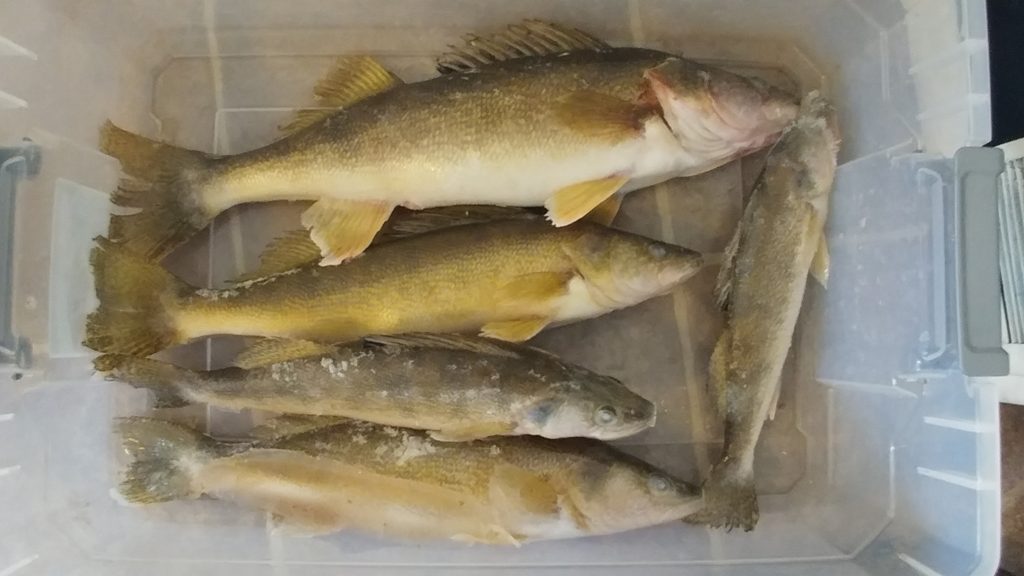 I returned directly to our location from the day before, 9 feet of water on the northern edge of one of the islands that we know about.
Fishing was not fast and furious and the Walleyes were slow, wanting a dead stick instead of active jigging, but the ones that bit were beauties.
I tried a Clown Jigging Rap and that was not working so I went to the old stand-by, the Gold Varmint, and Yahtzee!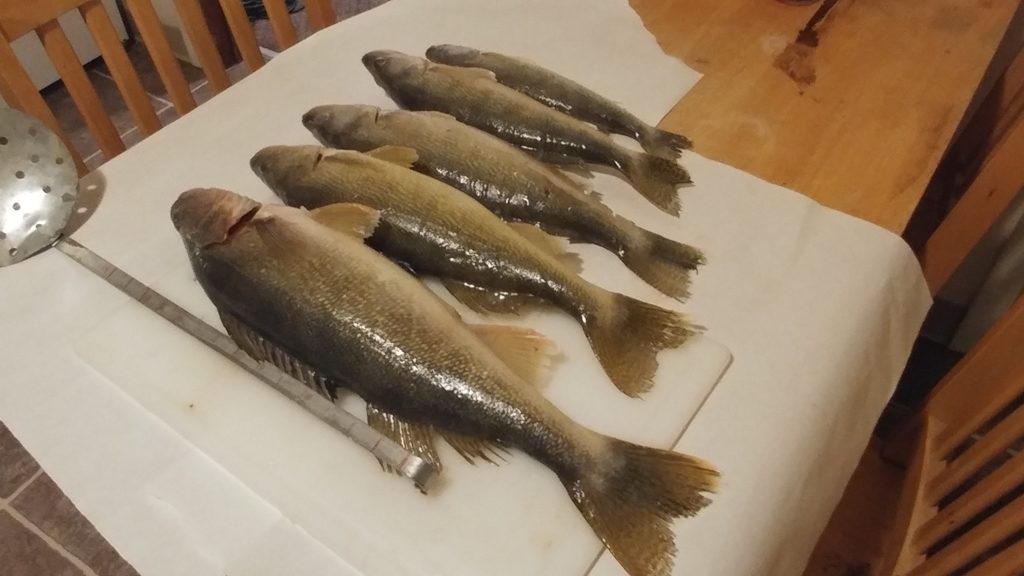 That lure never ceases to amaze me for how many fish it catches.  I was able to ice 5 beautiful Walleyes before noon and was more than happy to have made the decision to by-pass the Perch Search for a Walleye Camp Out.
Perch Report
There are a lot of Perch coming in.  Still being caught in relatively shallow to intermediate waters.  The 15-19 foot range is producing Perch, especially any bowl type structure or flooded timber line.  The intermediate 25-30 foot, old shoreline ledges are starting to stack them up also.  This is that 'moving, transition' time so the intermediate level is going to be holding a lot of fish.
Focus on old shoreline ledges in 25-30 of water and then as the day gets longer drop off the ledge and search the edges of the basins.  We are also going to start to see the mega super schools of Perch roaming the deep water basins soon.
Anything gold tipped with a minnow head is going to attract attention, I recommend the gold varmint or gold Genz worm if you still have any or can find one.  If they are super finicky, size down and put on some spikes or wax worms.
Good Luck Out There…
and…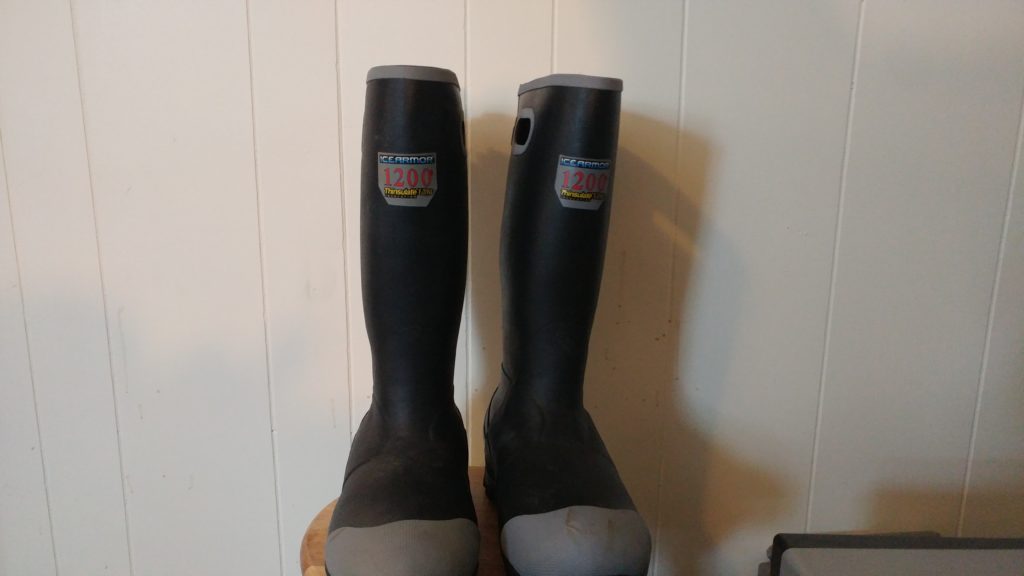 What is it:  1200 gram waterproof boots from Ice Armor
Pros:  Waterproof, relatively easy to put on, 1200 grams so very warm.  I was out in -30 wind chill temperatures on Sunday and my feet did not get cold at all.  I was able to drill holes without having to worry about sloshing water on my feet which made me much more efficient.  I was skeptical about their ability to keep me warm but they were extremely effective.
Cons:  My pants scrunch up a little when putting them on but with a little wiggle this can be easily rectified.
Perch Points: 5/5