We live in the greatest nation on Earth, the blanket of freedom that wraps this country is truly special.  Disregard what the media feeds to you, the USA is the place to be.  We have so many things to be thankful for and often times we take most of them for granted.
I could never, in a blog post, really sufficiently name all of the things in my life I am grateful for, but I would be at fault if I did not attempt to call out the most important.
---
FAMILY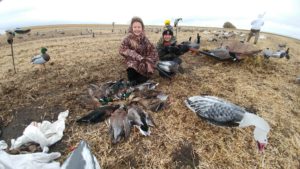 My motivation every morning!
Thank you clan, all 17 of you!
The most important for me is my family.
My kids bring so many emotions to my life and I cherish everyone of them.  I take the good with the bad and embrace them.  Every positive is a joy and every negative is the opportunity for a learning experience.
My two sisters and brother are the three people that played a major part in shaping who I am today.  They keep me grounded and are always open to my questions and my rants.  Their spouses I cherish as family for welcoming the prodigal brother into their lives.
My 3 nephews and 5 nieces also make life for me and my kids so much more enjoyable.  Watching the oldest 4 in sports and the younger 4 interact with my kids is a warm and fuzzy feeling all over.
My wonderful mother is my rock.  Without her, I would not be where I am at today.  She has played such a huge roll in shaping how I think and the things I value.  She keeps me up when I am down.
My late father, God bless him, was the voice of reason.  The wisdom and knowledge he possessed is missed everyday.  I am just thankful that, for most of my life, I got to be a part of his.  Miss you Dad!
---
The Northern Tier of North Dakota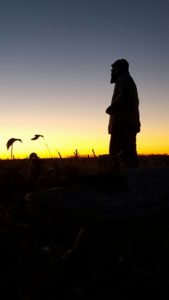 My favorite time of the day!
Thank you Lewis and Clark!
This wonderful state of mine, the place I choose to call home.  I am thankful everyday I wake up to the wide open spaces of North Dakota and the pristine FLAT countryside.  I am a flatlander through and through and although I don't mind visiting the mountains, I sure don't want to live there.
Give me open plains and prairie potholes everyday of the week and twice on Sunday!
---
North Dakota Year Round Fishing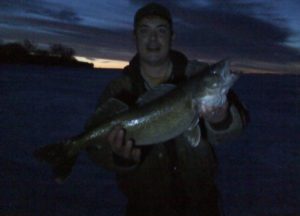 Thank you North Dakota Game and Fish Department!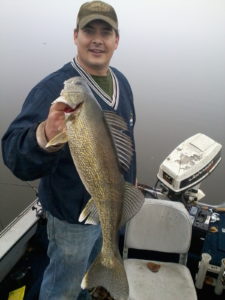 Spring Coulee Fishing
This is unique compared to some of our neighbors and I am so glad that the North Dakota Game and Fish department has elected to keep fishing for game fish open year round.  It truly gives us here in the Lake Region the opportunity for ….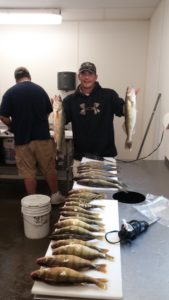 Summer Walleye/Perch Smackdowns!
NO OFF-SEASON!
---
The Duck Factory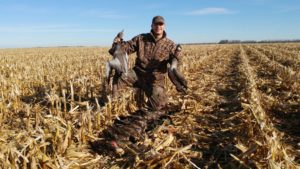 November Cornfield Waterfowl Hunts!
Thank you Glaciers, we appreciate the divots!
We have been hard at it since August 15th, pursuing flocks of Canadas, Ducks, Cranes, and Snow Geese.  While the seasons to the south are just opening, we are on the rapid downhill slope of our season, just in the nick of time for us to hop on the rapidly forming ice!
---
Below Freezing Temperatures!
Thank you Global Tilt and Arctic Air masses!
Just as our last flocks of Mallards and Snow Geese are punching their boarding passes, we are forming the initial skim of ice on our smaller bodies of water.
My Vexilar is plugged in and charging and our first, daredevil excursion onto Early Ice will take place this Saturday.
We have a Thanksgiving morning duck hunt in the works and a Saturday morning Ice Excursion planned, our Off-Season officially lasts one day, Friday!
---
THE Minnesota VIKINGS!!!!! SKOL!!!!!
Thank you Wilf's and Mike Zimmer!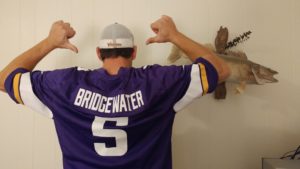 I am a Vikings fan, 110%.  A tortured, traumatized, delusional, yet ever hopeful VIKINGS FAN!  They were relevant again, and then not, and then after Sunday, maybe!
I will watch them whether 16-0 or 0-16, I'm just glad they are in the hunt and we have a great coach to get behind and a defense that keeps us in games.
---
YOU!
Thank you DLFR readers, subscribers, and customers!
I can't forget you as our readers.  When I came up with the idea back in 2011, I was very apprehensive about going public with some of this stuff.
However, I really felt that we had great content and a great product to offer the average fisherman that comes to North Dakota and Devils Lake.
Writing for Devils Lake Fishing Report has been an absolute blast and after a mere 6 months I wouldn't want to go back to the way it was.  This blog and our mission gives what I have a passion for doing real purpose.
Before, there would be days when I would say:
'I'm tired, i'm not going today'
I don't have that option anymore.  It has made me embrace everything about my home and look to branch out and try things we never would have otherwise.
So I thank you, the readers of Devils Lake Fishing Report, you have added to my motivation and I am humbly grateful.
---
What are you thankful for:
What did I miss? What is it that you feel should be right up there, let us know what we overlooked in our comments section?!
---
Product Review: Hawk Filet Knife from Rapala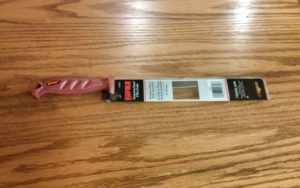 What is it: The last non-electrical filet knife you will ever need to buy for under $10.
Positives: It's $5 at most bait shop and tackle stores.  I don't even use them to filet fish, I use mine for cleaning birds and in my cooking of wild game and fish.  They are awesome around the kitchen and with fowl.
Negatives: There aren't any!!
Perch Points: 5/5