This Recipe is SO EASY, yet one of my favorites.
I cannot stress to you enough not to over cook the fowl.  Rare is the only way to go when grilling Ducks and Geese as you would a steak.  Medium Rare is still ok, it will still have that steak flavor.  Medium is on the fringe of overdone.  Anything past medium and it turns into why people call Snow Geese sky carp.  It is not the Snow Goose or Ducks fault, it is the chef's.
This Recipe is so simple.  All's you need is a grill, duck and/or snow goose breasts, trimmed of fat and hematoma.  Montreal Seasoning for flavor.  The sauce is one part Gunslinger to two parts Ranch.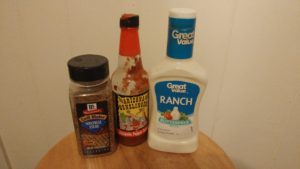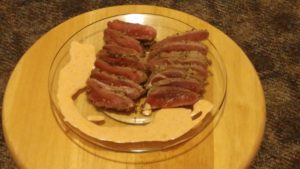 This is the Duck when Rare, how I like it. Basically warmed up enough to flavor the breast with the Montreal seasoning.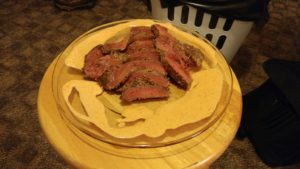 The Snow Goose, at its optimal grilling temperature, RARE, it melted in my mouth.
This is what I would call Duck cooked to Medium Rare, it was good, but had lost some flavor compared to the Rare.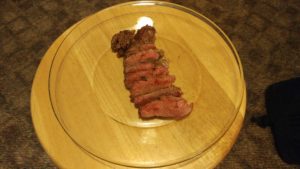 This was the Duck getting close to Medium and getting close to the Sky Carp stigma!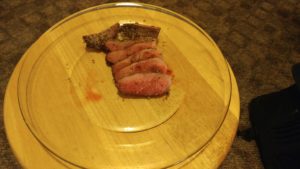 This is the Duck at definite Medium.  Not how I would prefer it.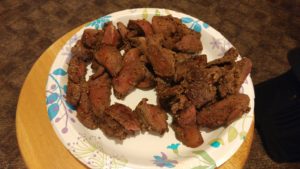 This is SKY CARP. So over done that it has taken on a totally different flavor. I did not eat this, it will go to the fridge and I will rewarm it for Nachos!
The flavor of fowl takes on a totally different flavor as it passes the point of medium rare to medium and really anything past medium takes on that classic flavor that everyone associates with SKY CARP.  It irritates me when people use that term because it really demeans the gloriousness of the fowl that we love to pursue and it is not the fault of the fowl, but the fault of the chef.