Can You Say- YUM!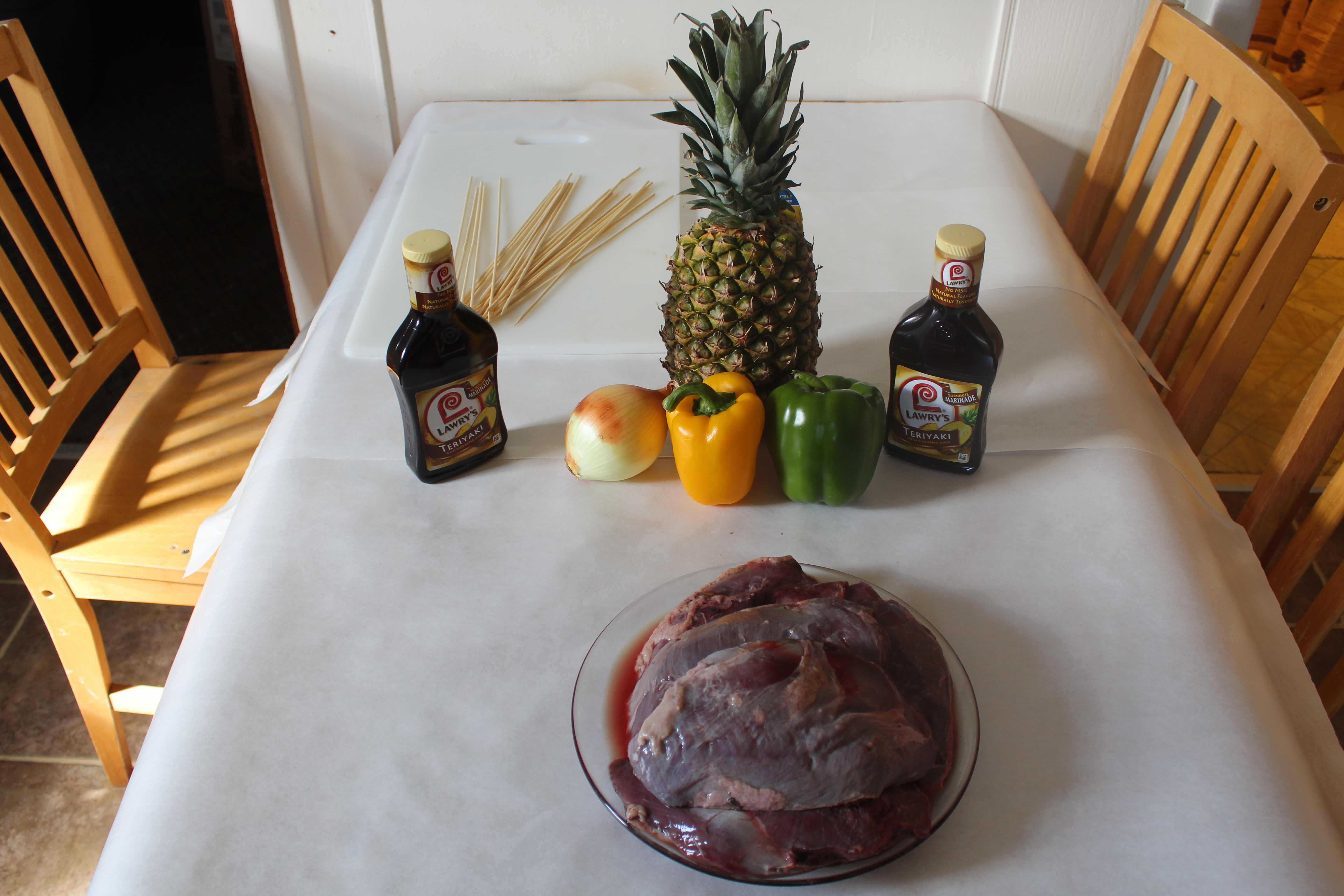 Start with this.  I like to keep my Kabob recipes simple.  I use to put on a Snow Goose feed every Spring for 100+ people and the Kabobs were always at the top of the 'favorites' list.  Here I have:
Edible Ingredients:
Canada Goose breasts (went with Canadas this time, Snows and Ducks actually work best)
Green Pepper
Yellow Pepper
Pineapple
Teriyaki Marinade
Onion
Bamboo Skewers
Other things needed:
Cutting Board
Good, sharp knife
1 Gallon Ziploc bag
Grill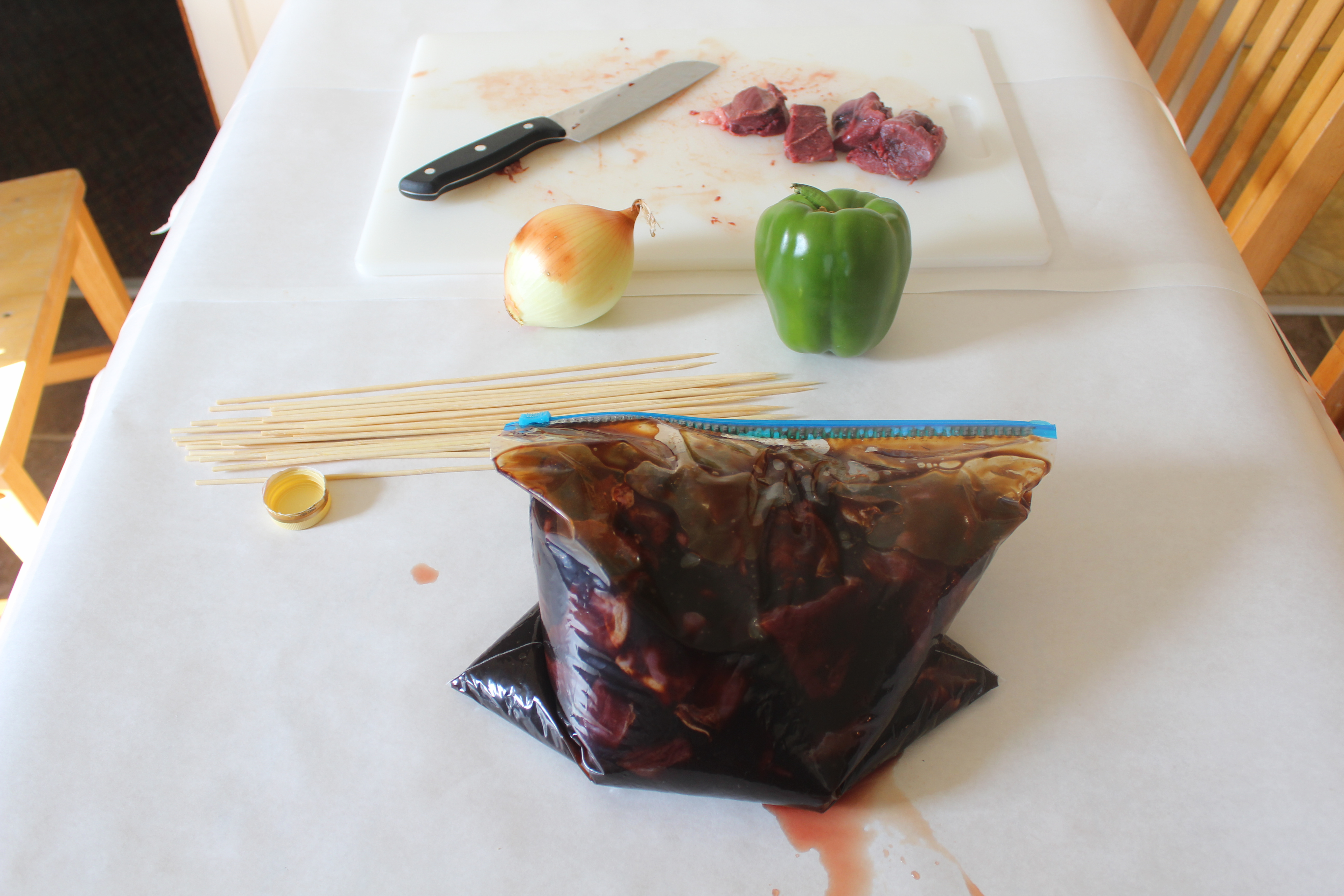 Cutting and cubing the goose breasts is the first order of business.  I like to marinade the breasts after they have been cubed to reach more surface area.  1 by 1 or 1.5 by 1.5 inch cubes is ideal.  Do not over marinade.  I have often used different liqours along with my marinades and whenever I marinaded for more than an hour or two it really distorted the flavor of the wild game.  Don't do this.  1-2 hours is plenty.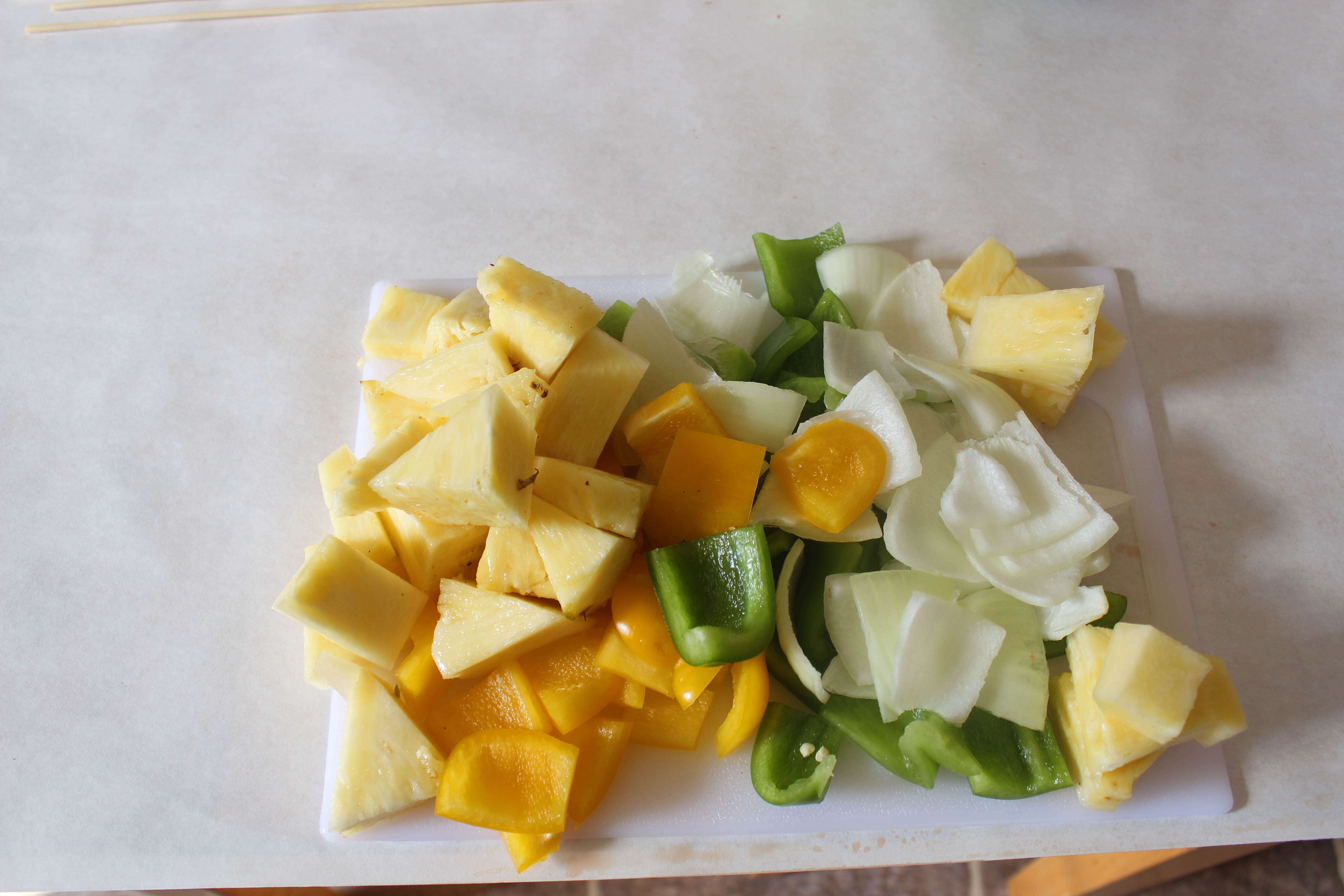 Next is the veggies.  For teriyaki we use 2 peppers, onions, and pineapple.  The citrus of the pineapple adds a wonderful flavor and even if you are not a huge pineapple fan, we strongly suggest including it.  We try to cut these at about 1.5 inches, any smaller and they tend to break on the skewer.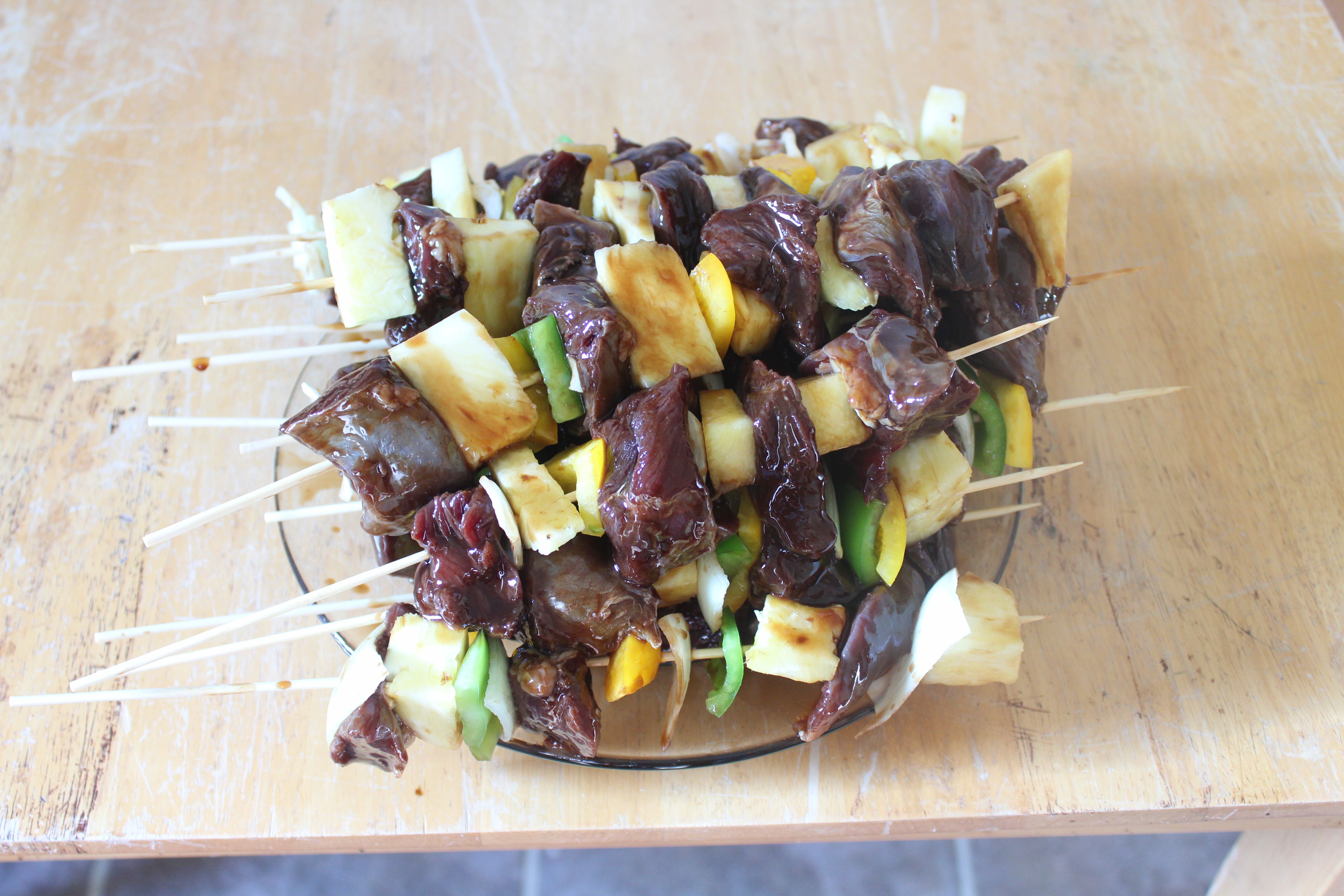 As you can see, we like to make sure that the pineapple is next to the meat on the kabob, this is essential in permeating the pineapple flavor into the meat.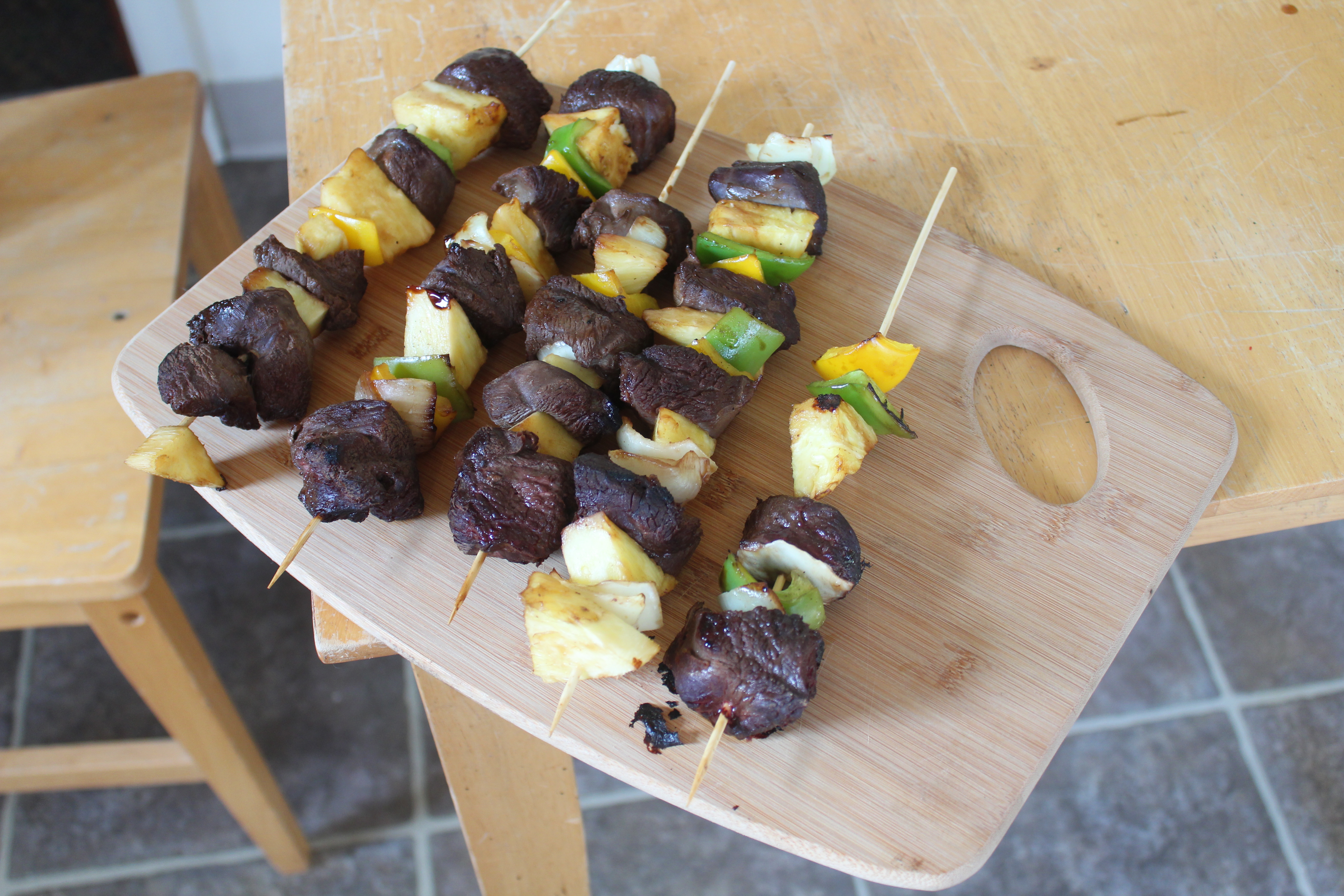 Place the kabobs directly onto the grill, turning a 1/4 turn every 2-3 minutes, I will never cook my wild game over Medium Rare, to do so is an injustice.  I actually prefer mine rare to med. rare but for the sake of those dining with me I will go into medium rare.  You don't want to scare your guests off before they get a chance to sample the featured item.
Boat Launch Update-In Case You Missed It
Round Lake– Round Lake dock is in.
Pelican Launch off Hwy 19– Dock went in last night
Estenson's on Black Tiger– Dock is in according to our source.
Fishing Report for 5-1-17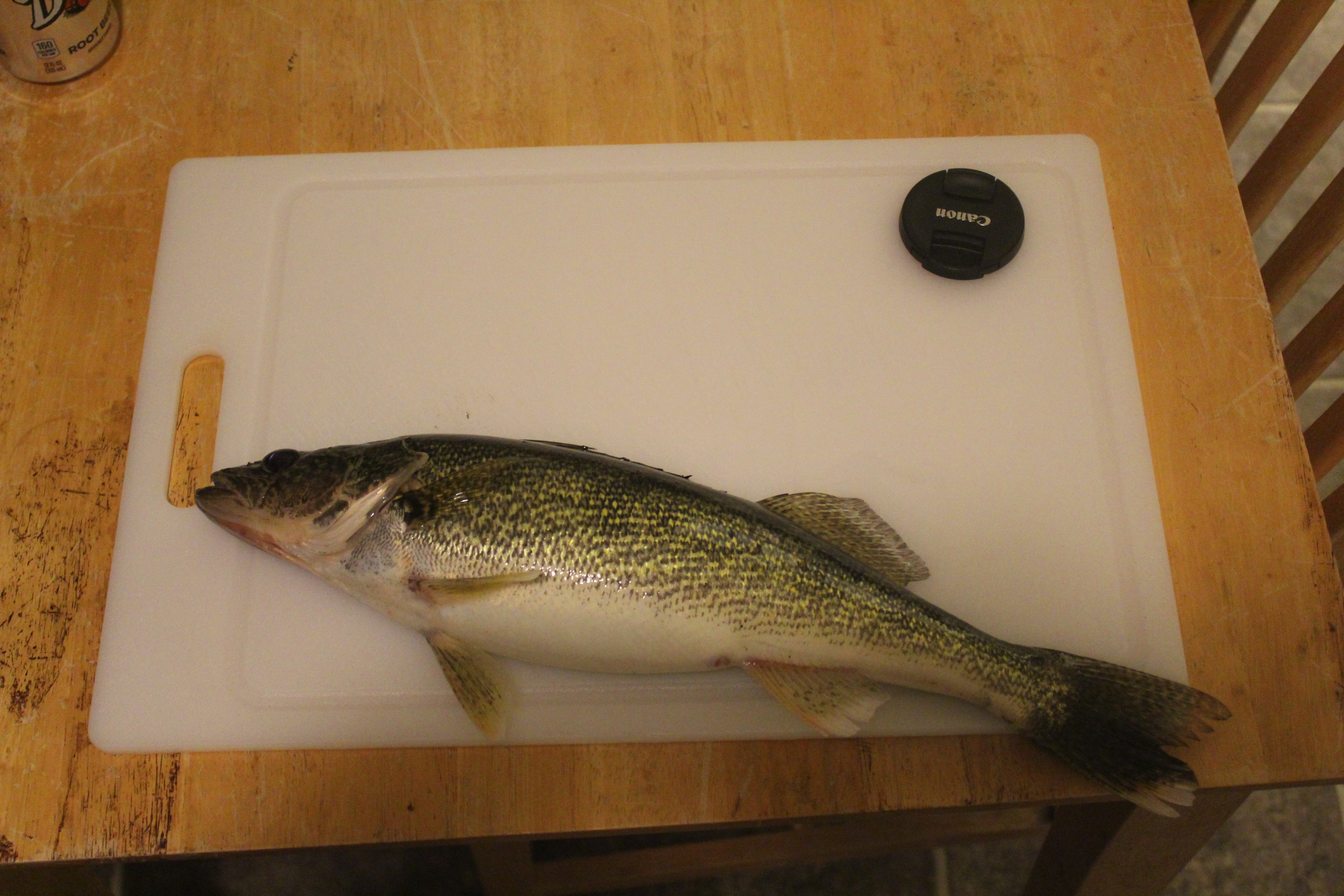 The last 2 nights we have searched around a few spots.  Mainly checking water temps.  We ventured a little in North 6 mile Sunday and found 1 Walleye and some pike.  Water was from 43-51.
Last night was out on Creel, Main Bay, and New Mil.  New Mil had some 53/54 degree water in spots and ranged from 47-54 degrees.  Had quite a few pike in there but no Walleyes with a lot of Pike follows.
Oddly enough, as I always hit Rocky Pt. deep with spinners whenever I am by it, I decided to drop down some spinners with leeches and night crawlers and trolled the length of the point.  Thinking we might hit a Perch or two.  Was surprised when we pulled an 18-inch eye up from 39 feet of water.
39 FEET OF WATER!!!!
Stay tuned as we will be posting reports as soon as we collect the information so check in often as every day is a fishing day from here on out and we will give you everything we've got until the Honkers are fair game if you know what I mean!!
Good Luck Out There!!
And…