'American Express' stuff: You Can Fish Without It but I Won't
Body Tools
Cold Feet Are Never Good
If your feet get cold, your day is soon over.  If other parts of your body get cold you can move around to warm them up, you can blow on your hands, you can run a lap around the fish trap.  If your feet get cold they will stay cold and your day is done.  A good pair of boots is essential.   I like Rocky's, they are quality and last a long time.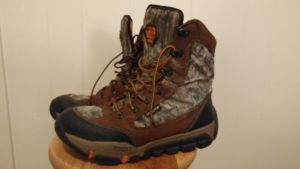 I don't even know how long I've had these, they still work!
I have fallen on my keister more times on the ice than I care to count.  Early ice is slick, really slick.  Every year we are walking out on 3-5 inches and more than likely pulling an equipment laden sled or fish trap.  Cleats are a must.  I have turned the truck around to go home and get these.  Gotta have them on early ice for sure, they stay in the truck all year, just in case.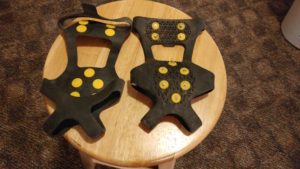 Frozen Hands Are Useless
After cold feet, the hands are the next most important.  Once they get cold, they never really warm up and if you are catching fish they are going to get wet, wet hands in 40 below weather is a dangerous situation.  Gotta have good mittens that will accept hand warmers and gloves that you can get wet that will protect your hands from getting wet.  Ice Armor Mittens and Gloves are my go to.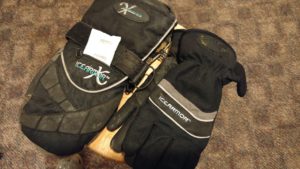 I always have a towel along.  Even the most articulate gloves will have to be removed for rebaiting, and rebaiting with minnows means getting your hands wet.  A simple towel has prolonged so many fishing trips for me that I never leave them at home now.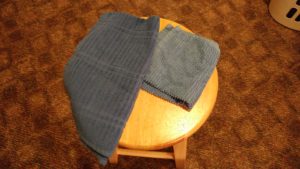 My hands have been saved by Hot Hands so many times that I buy them in bulk, and keep buying them throughout the year, I should invest in stock because they are a must have for the dedicated Ice Fisherman.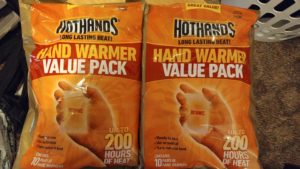 Comfortable Environment
We like to stay mobile.  I am always very apprehensive about setting up shop.  I only do so when we are on a Gold Mine of Perch or Crappies.  In the event of a strike, just having a trap is not enough, you gotta keep that trap warm.  Sunflower heaters are great, until they almost blow you up or light your canvas on fire.  The two items below are now what we go with and will not go back to the sunflower heater because of the effectiveness of the Buddy!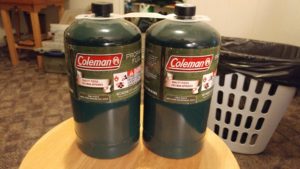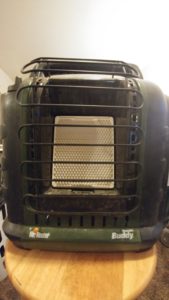 Gotta See 
We like to get on the ice early, well before sunrise.  We want to be set up and drilled in way before the fish get active so that our holes have had a chance to settle down.  I also like to have set lines with slip bobbers going in a diamond formation a little distance from my jigging hole.  Multiple lights to illuminate my bobbers are a must and I gotta be able to see what I am doing when baiting up and setting things.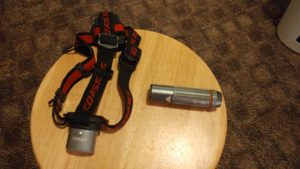 Tools of the Trade
The top two probably go without saying, snips and scissors, cause you gotta have cutters.  The bottom item may be foreign to you, but for the deep water Perch fisherman, the pencil weight is a must, especially if the feeding frenzy is in 50 feet of water and only lasts 15 minutes.  Your only catching if your bait is in the strike zone for as much time as possible.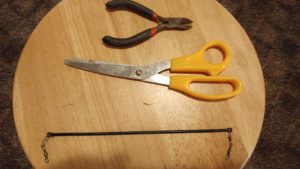 I hate slushy holes.  I have lost fish because of iced up and slushy holes, I always have multiple sized ice scoops with me, and you never know when one is going to go kerplunk, down the hole.  I know exactly where at least 3 perfectly good scoopers are at this very moment.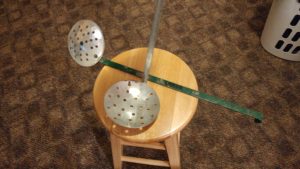 No explanation needed!!!!!!!!!!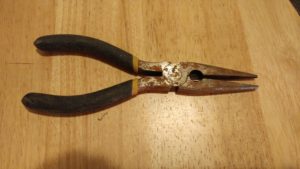 Post Fishing
This is a sad statement, but I have lost the ability to clean a fish with conventional filet knife.  I have to have an electric or I will butcher it.  I like the Berkley's.  The Black and Yellow American Anglers were so awesome, but a guy can't find them anymore.  This is my new favorites.