Devils Lake: Multi-Species Wonderland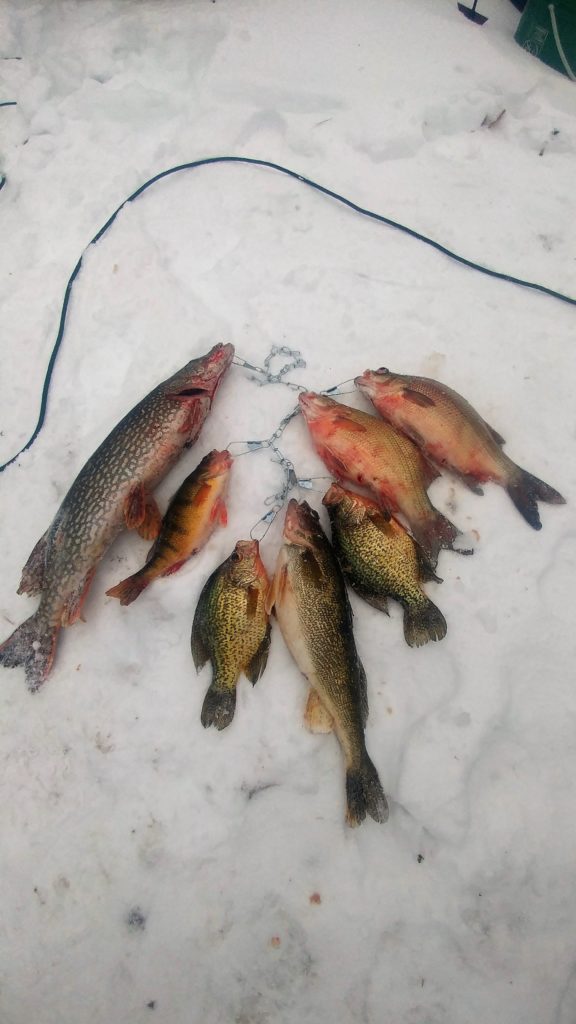 This wonderful fishery I call my home waters never ceases to amaze me.  The richness of its waters makes many an average fisherman look extraordinary!
I often tell people, when they ask if I fish any other lakes:  "I will start broadening my horizons when I have Devils Lake and its Feeder Lakes figured out."
I'm never leaving Devils Lake!
This fishery is just such a wonderful place and takes up such a big piece of my heart.  Not only is it teeming with 5 wonderful game species, it is home; and has been since birth. Growing up on the shores of two of the Northern Feeder lakes, Lake Alice and Lake Irvine, has solidified my desire to never leave.
So far this winter, it could be said that, for the most part, fishing has been above average to spectacular.  With a little drilling and desire to not quit, all 5 species of fish can be targeted on Devils Lake right now.  From 5 feet of water out to 50 feet of water, they are there for the taking.
Walleyes
Walleyes are present in just about every depth range right now.  The bigger specimens are up in that 6-12 foot range either on or near structure or out on the mud flats.  For greater numbers, structure in 15-25 and deeper flats in 25-32 feet both are holding unbelievable numbers of smaller fish. (For more specific areas, purchase the Elite report to find out where)
Attack them in the first hour and a half of the morning and the last 2 hours of the day with anything gold (Varmint or Buckshot) or a Perch or Fire Tiger jigging rap, all tipped with minnow heads.
Some days the Walleye bites have been nothing short of vicious and if you aren't paying attention they will rip the rod right out of your hand.
Perch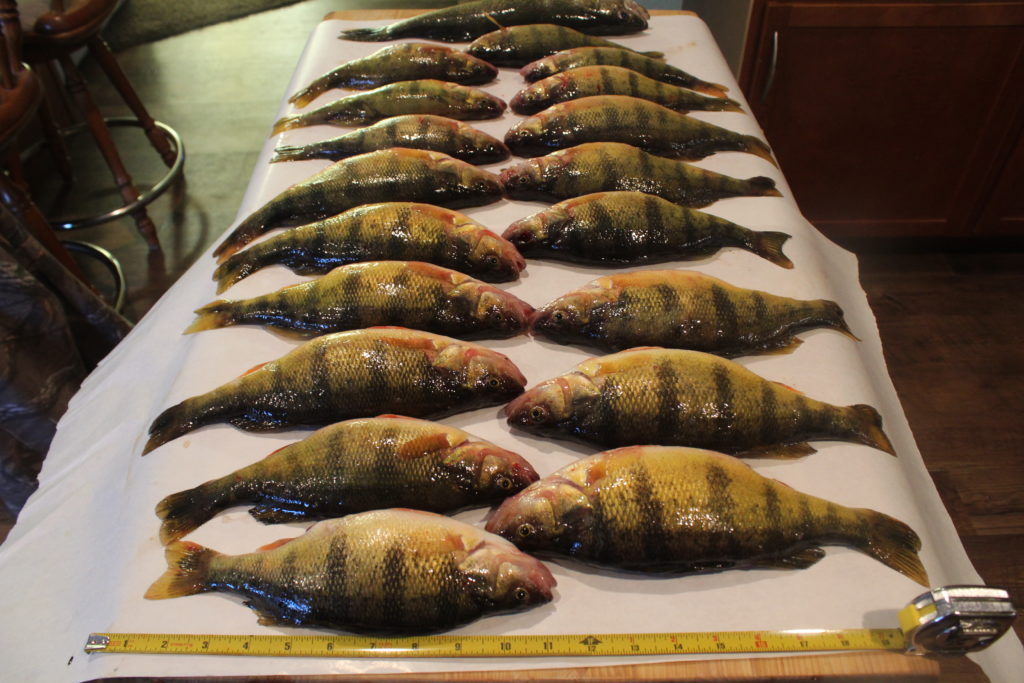 The superstar of the winter on Devils Lake has not left us wanting.  There are ample numbers of fish coming out right now.  While there aren't a huge number of big, Jumbo 14 inchers, there are a ton of 10-12 inchers to be had.
To find them you need remember just one word:
DEEP!
Super deep for Devils Lake.  I will not even begin a Perch Search in less than 30 feet of water right now.  The big schools are being found in 36-39, 40-45, and even out into that 50 foot depth.  The eastern portion of the lake has been a tad more consistent than the middle and west but those other two are slowly closing the gap as some nice catches are starting to show up.
Crappie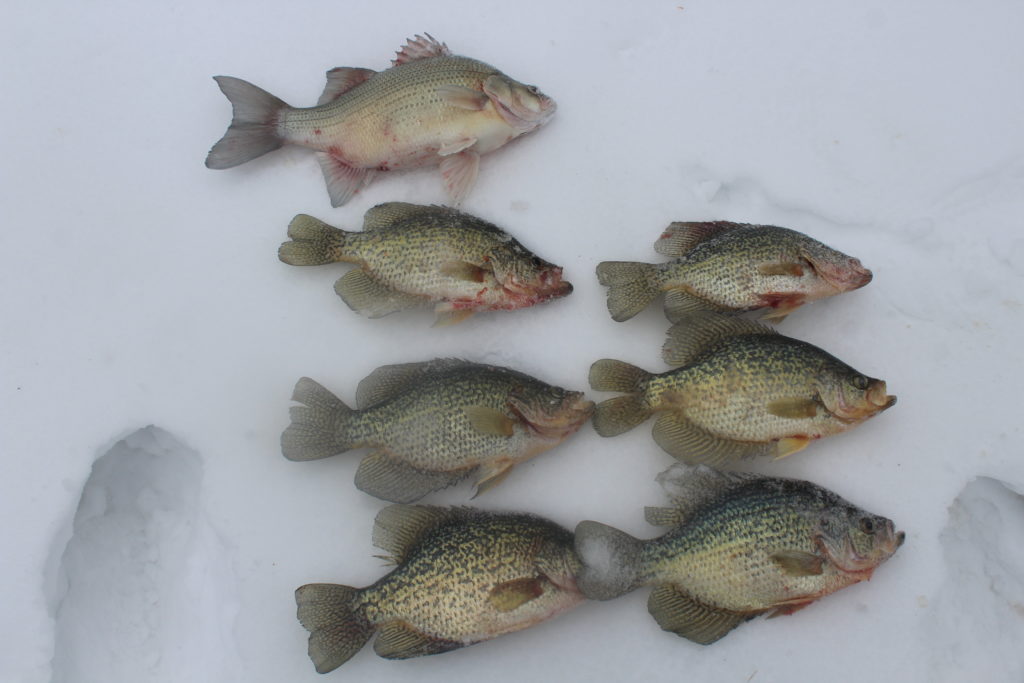 For those that know, they are schooled up and there for the taking.  We have now surpassed our Crappie total for all years except for one.  With one more week of hunting them we will easily surpass even our best Crappie year, 2013-2014.
Anything Gold tipped with a minnow head and vigorously jigged 3-4 feet off of the bottom got our fish going.  They wouldn't bite until we drew them up into the 4-6 foot range of the zoom so working them up off of the bottom is key.
Pike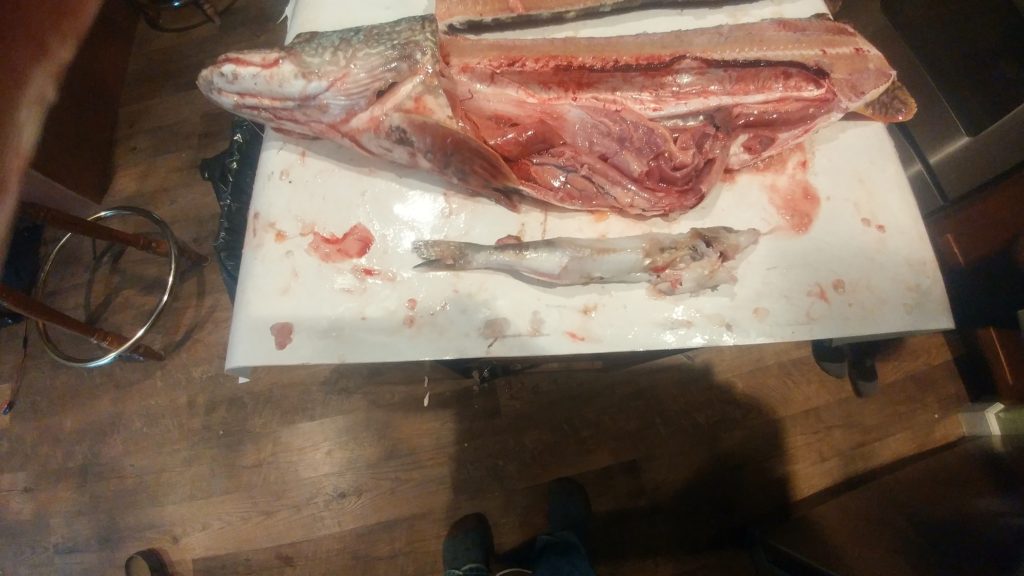 Not just a shallow fish anymore.  We caught our last two in 33 feet of water, the one above was obviously chasing the same thing that we were, PERCH!  We don't target Pike, they come to us by accident.  However, if we were to target them we would get up in those shallow flats 5-10 feet of water and litter it with tip ups and herring and smelt and let the flag chasing begin.
White Bass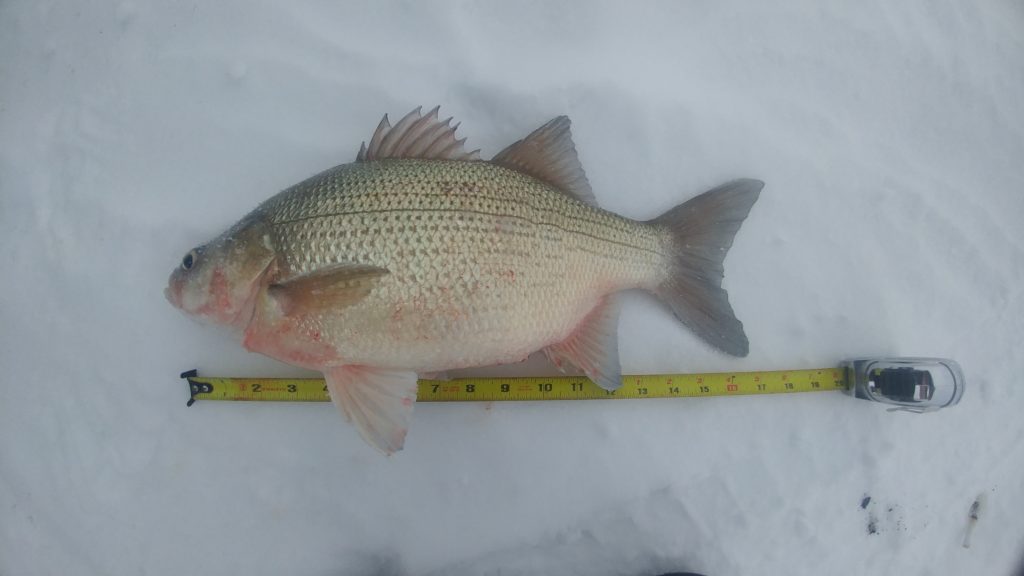 The often over looked game fish in Devils Lake.  These waters are absolutely LOADED with them.  If you have ever tackled an 18-inch, 3.6 pound White Bass on light tackle and Ultra Light rod, you know how much fun they can be.  There are all sizes in the lake right now as well so if you like them for table fare or smoking, there are abundant, smaller, 1-2 pound fish as well.
Look deep, 30+ feet for these roaming schools and let the hyperactive jigging begin.
Good Luck Out There!
Hold On To Your Rod!!
And…
Find Your Tree
With…
DevilsLakeFishingReport!!