Just A Little 'Off' Last Week
Righted The Ship Today!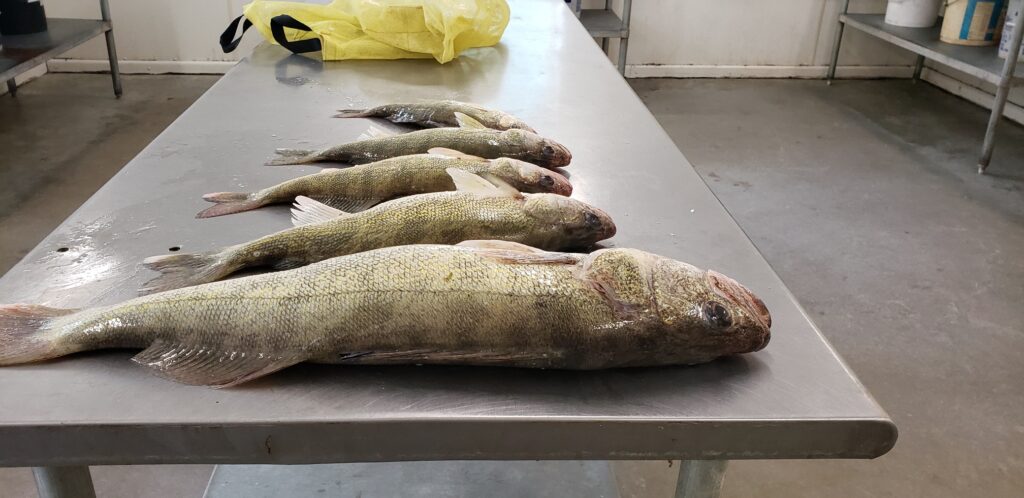 Last week, it just seemed like the fish were 'off', even when we found a lot of marks on the bottom, they weren't as fired up as they had been. Sure, we had some good days, might have had to work a little harder than we had in previous weeks, well pretty much all year. That turned around in a big way today.  Found two spots:
Spot 1- full of eaters
Spot 2- fewer fish but much better quality
We weren't as deep as we had been, and we saw fish back up in hat 16–19-foot range again.  I think the cold front of last week wore off a little bit and we are getting a few days away from a massive bug hatch. I think that bug hatch in combination with the cooler temperatures put something of a damper on the aggressiveness of bite.  With more stable temperatures and the bug hatch in the rear-view mirror, I expect the bite to continue to improve each day.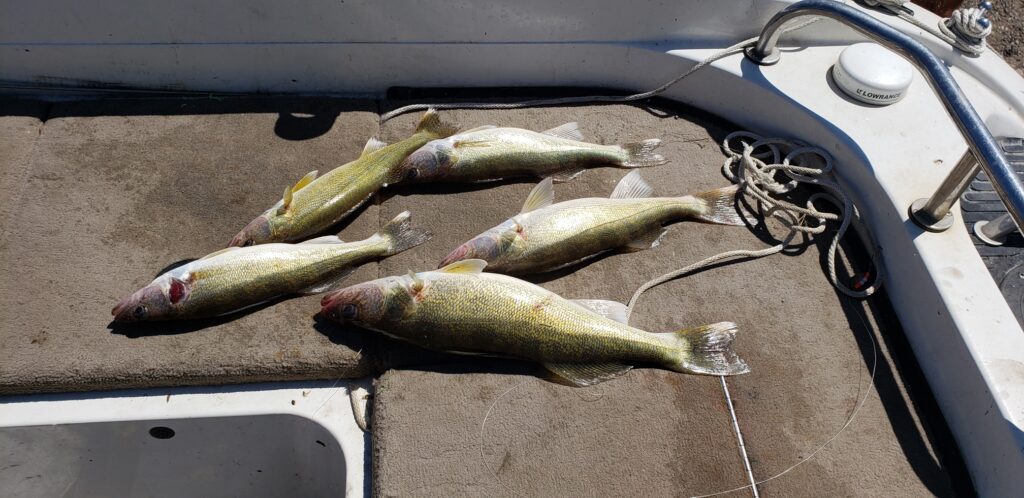 Still Spinners!
We continue to get the bulk of our fish on spinners. Greens, chartreuses, the golds and silvers, pink/white; every day is just a little bit different when it comes to color but those are just some of the more effective ones lately. Worms continues to be the bait of choice and that is probably twofold:
Getting tougher to find quality leeches
Warmer water means worms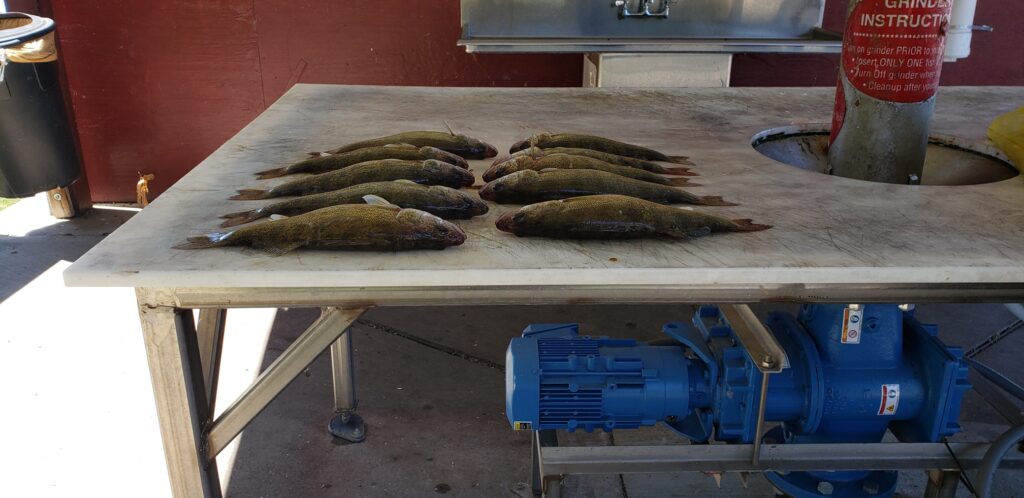 Depths?
I wouldn't say that there is an exact number to stay at, but there is a definite 'goldilocks zone' to stay around. For simplicity purposes, let's just call it 16-26. Yeah, I know that is quite a range but in all honest that is the range, we are zigzagging across initially until we can establish what depth line they are in in each area. Today 19 was kind of a magic number whereas a few days last week it was 23-26.
One day last week, we even dabbled in 30+ and found quality fish in those deeper, abyss regions as well.
Don't Overlook Shallow Structure!
As you get into the western portions of the lake, especially Pelican, don't overlook the shallow structure.  Roadbeds and rock piles in that shallower 10–15-foot range, are still going to hold some nice fish, especially early in the morning. I'm pretty sure there are always fish lurking around those roadbeds at pretty much any time of the year.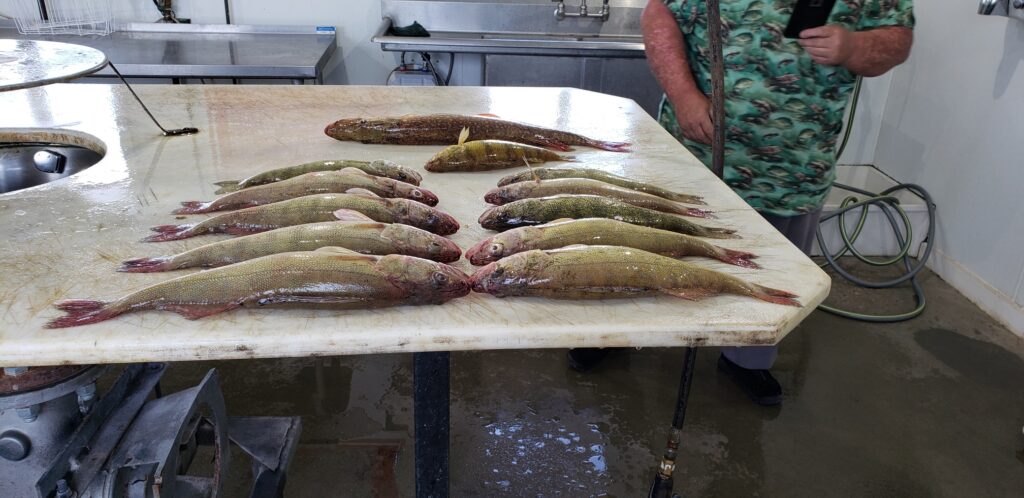 Check The Guts!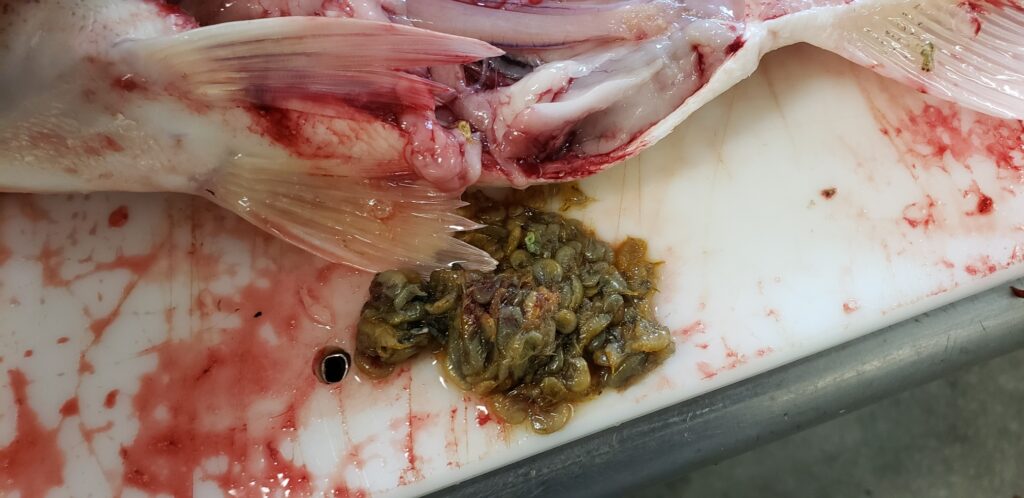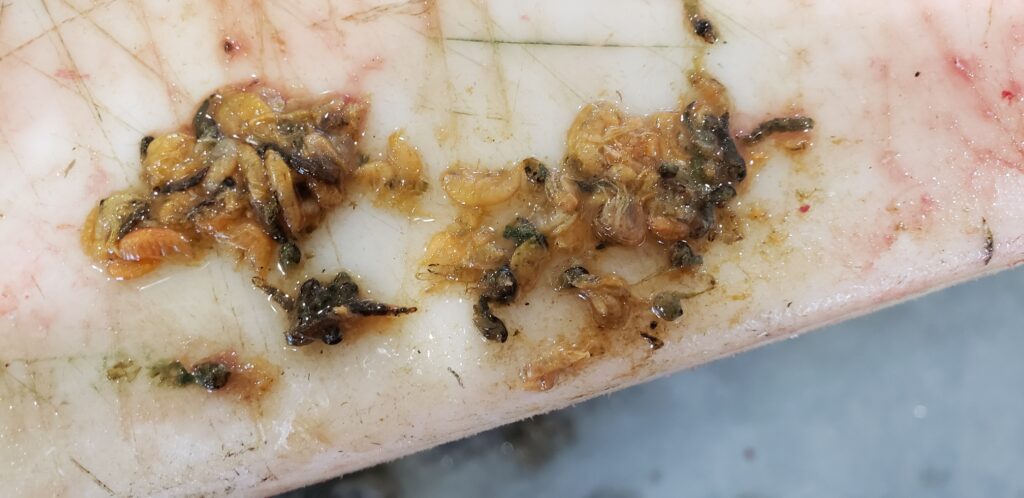 Full of shrimp for the most part, last week add bloodworms to that, not seeing a lot of minnows and young of the year fry yet so we will delay the serious lead coring until we see more of a 'fish' presence in their guts.
Good Luck out there!
DevilsLakeFishingReport!
Fishing Into Catching!

Since 2016!