Water Temps!
Even after the nasty weather; t-storms and high winds, we are still maintaining elevated water temperatures compared to what we had been seeing.  Saturday during the tournament we saw 73 degrees and Monday we also were hitting 73-74 degrees.  Main bay out in the open was 65 today but that is substantial considering the weather conditions over the last 48 hours.
Water Clarity!
Clear water had been plaguing quite a few areas of the lake, especially in some of our favorite shallow, back bays.  Aside from flat calm, this clear water condition also had a negative effect on a lot of our tournament day.  The weather the last few days will have solved some of those issues as these 40, 50, and even 60 mph winds over the last 48 hours should have mixed up some of those supper shallow areas. A little stained water does wonders for a Walleye bite.
Lake Elevation!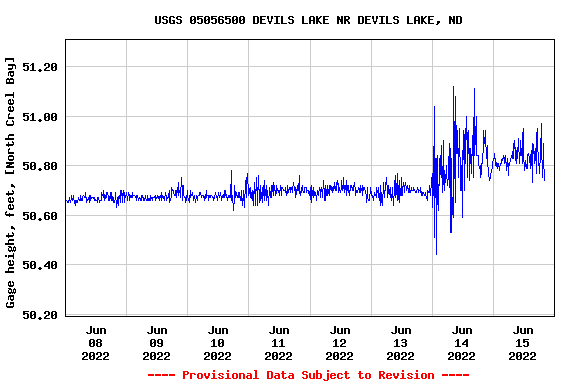 As you can see, we had a little bit of wave action on the lake!! It also does seem like it went up about .20 feet. A much more gradual rise and the surge is definitely tapering off.
Weed Growth!
Weeds are in overdrive right now and those weed edges are changing constantly. In some of the back bays, staying clean even out to 5-6 feet is getting more difficult.  If you can stay clean up into those expanding weed beds, there are some dandy eyes up in them.  On Saturday, with the clear water we could see big eyes just lounging on the bottom on weed flats.  Pitch cranks to -or- troll spinners/cranks along that weed edge and you can pull some of those Walleyes out.
Not that we are taking a break or anything but weather and kid activities will keep us off of the water for a few days.  Until we get the boat wet again…
Good Luck out there!
DevilsLakeFishingReport!
Fishing Into Catching!

Since 2016!