Open Basin Fishing!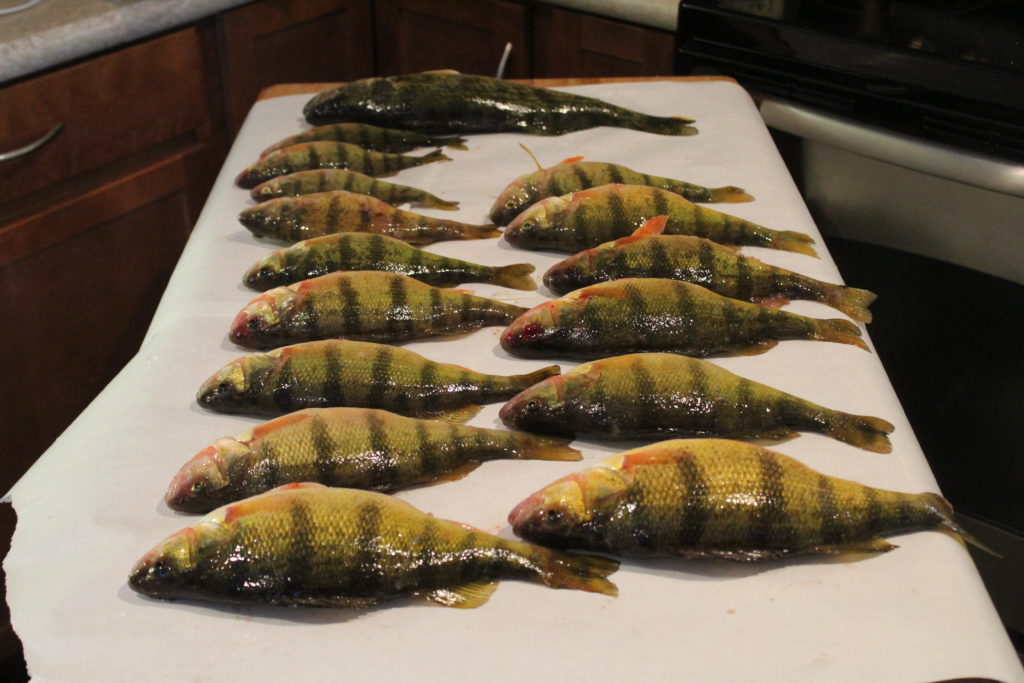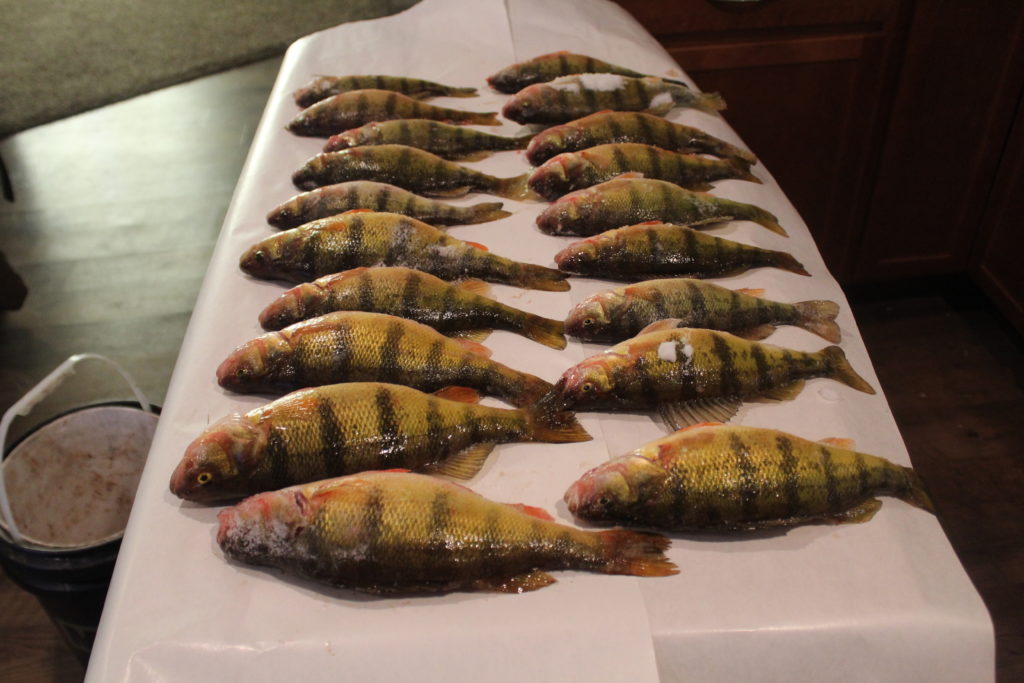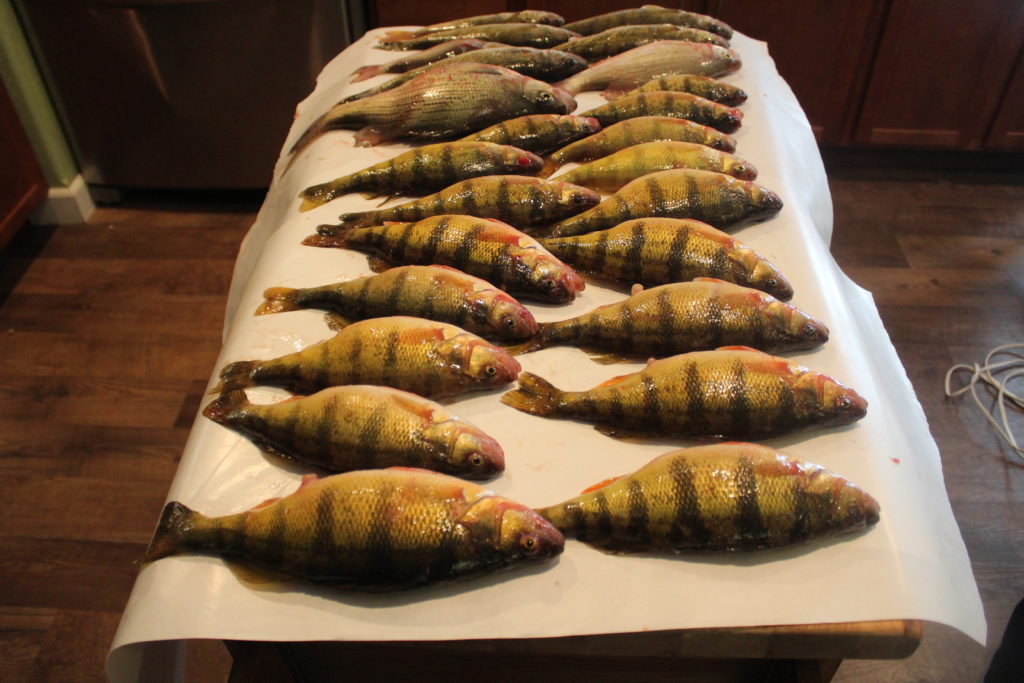 We spend an exaggerated amount of time scanning contour lines.  We drill those contour ledges endlessly looking for areas to search for Perch.  We speculate on what depth level ledge those Perch are hanging out on.  15 feet, 20 feet, 30 feet, 35 feet.
Those are the usual depths we find those Perch schools at.
Then there is a different type of Perch on Devils lake.  The Open Basin Dweller.
These things cruise the open basins of the Main bay, Six Mile Bay, Creel Bay, Black Tiger Bay, East Bay, and East Devils Lake.  There are no contour lines on the GPS in these areas.  There aren't any structural indicators to focus on.  There is just a great expanse of water.
That water is also deep, at least deep for Devils Lake.  35/40+ feet.  You basically have to keep everything you catch due to the air bladder being popped out the mouth.  The schools are usually quite large anad some really nice Perch can be found in these wide expanses.
The open basin is where we have been finding some nice Perch the last few days.  They haven't been mega schools.  More like roaming pods, however, they have been very active for short flurries.
How To Attack The Open Basin
DRILL!!
In a word, that is basically what one has to do.  Those open basins are large and finding these schools of Perch out there requires an extensive search.  You may run into one or a pair after a few holes but that is not what you are looking for.  In deep water, your Vexilar cone is going to be a lot wider than in 20 or 25 feet of water.  You are looking for a hornets nest on the bottom.  Looking for holes with multiples or numerous holes with multiples down them.
Basin perch are also very moody.  Docile fish one minute turn into a feeding frenzy the next.  Due to this, we extend the amount of time we fish each hole.  Where our intervals are 2-3 minutes in the contour searches, we expand that to 5-10 minutes out on the deep water basins.
That extended time has revealed many Perch schools that we would not have discovered with a 2 minute window.
Depth Conscious
During your open basin search, keep in mind the exact depth at which you are marking the majority of your active fish.
We found almost all of our recent Perch catches in 36-39 feet of water.
Walleyes!
We are finding our walleyes in two distinct areas:
Structures and Drops-Offs
Humps and structured points in 7-15 feet of water  surrounded by deeper water.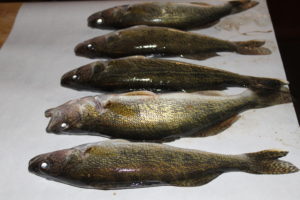 The edges of a ledge over looking a steep drop over significantly deeper water in 18-23 feet.
The larger fish have been coming out of the shallower areas but the bigger numbers of keeper fish have come out of the deeper water.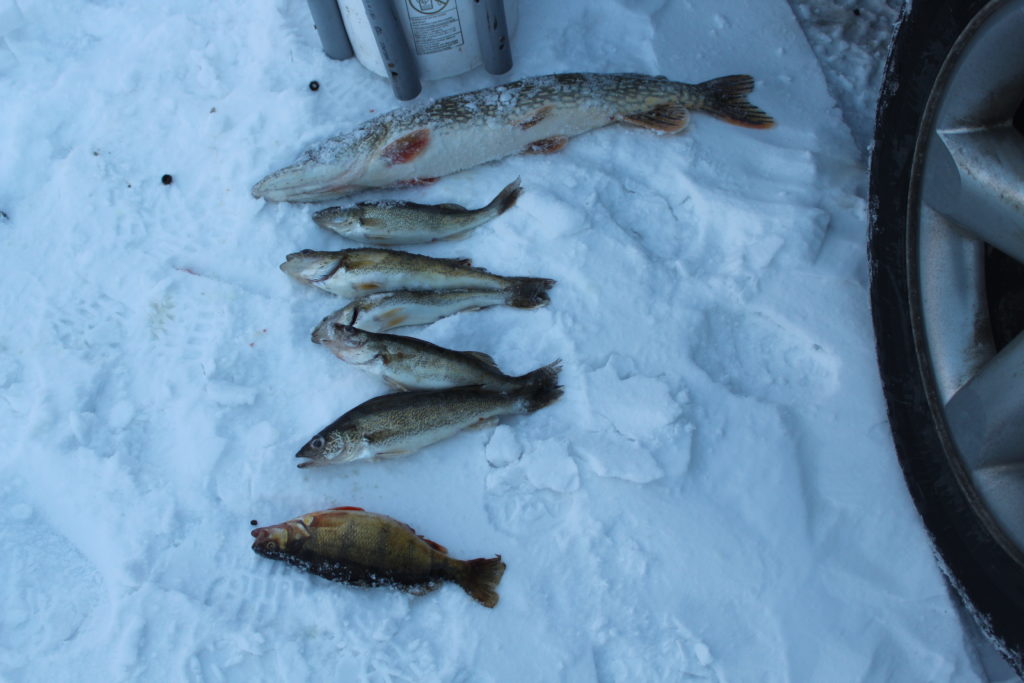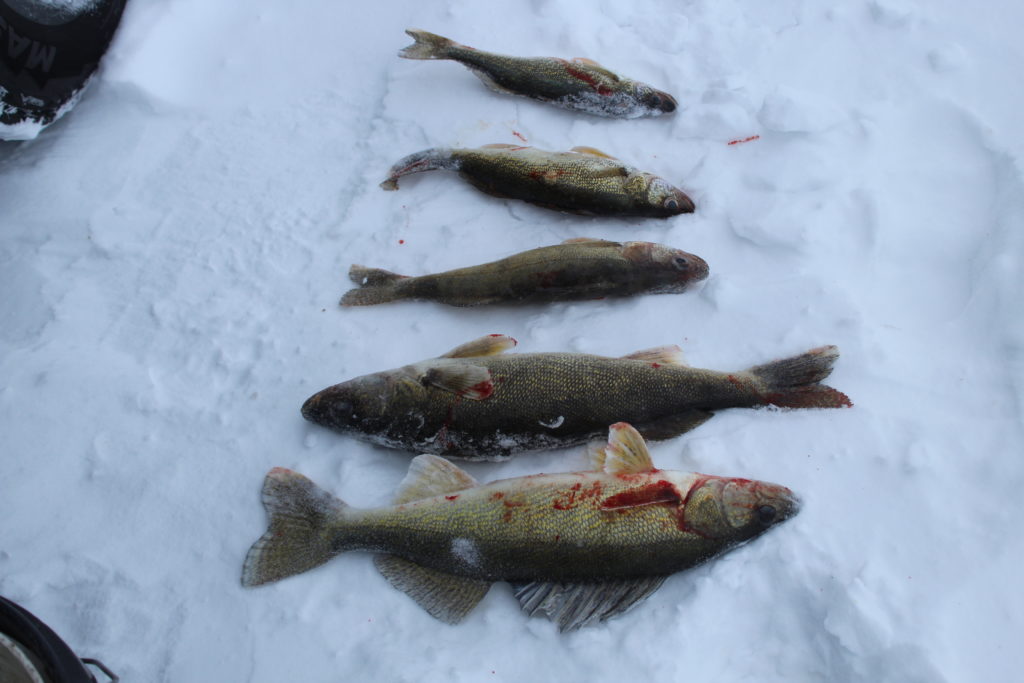 Good Luck out there!
Hold On To Your Rod!!
And…
Find Your Tree!!
With…
DevilsLakeFishingReport!!