When Is A 'DLFR Membership' Right For You!
DLFR is all about offering the average Ice Fisherman, or any Fisherman for that matter, a leg up on catching fish on Devils Lake and its surrounding Feeder Lakes.  We scour the Ice so you don't have to.  You can show up with the spots in hand to find success on this behemoth of an inland sea.
The network of information that can be garnered from entering the DLFR Membership community is vast and WILL improve your success rate on The Big Devil.
Whether it is the 'Grand Daddy Of Them All' the Platinum Membership:
Or Ice Fishing Specific, The Silver membership:
Or, you are just here for a weekend, and a months worth of Copper Membership Ice Spots is what you need:
Adding us as an information tool for your toolbox of fishing success will be vital in:
Turning Fishing Into Catching
on Devils Lake!
We logged $1225.00 worth of Waypoint information in 2016-2017 on the ice.  Due to our 'other' job, that was basically just weekends, holiday trips, and after work flurries.  We rid ourselves of that pesky 'other' job to solely concentrate on providing you with the maximum amount of information possible.  Our Ice trips this year will triple.  We have scheduled 4-6 days a week on the ice this year.  If you triple that Waypoint figure, it rockets to $3700.00+ worth of Ice Fishing Information.  Let the Silver Membership get you that amount of info for less than 1/10th the price.  Almost $4000.00 worth for the paltry price of $350.00.  That is a deal that is almost too good to be true.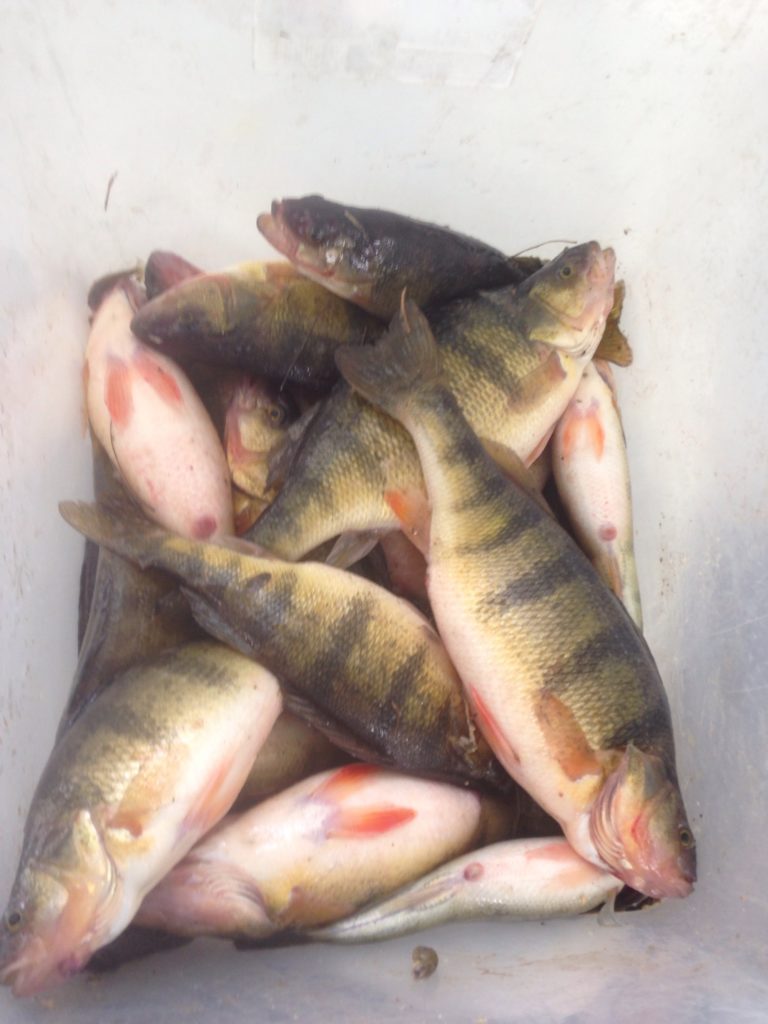 Let us walk you through a few scenarios where Membership might be right for you.
The Weekend Warrior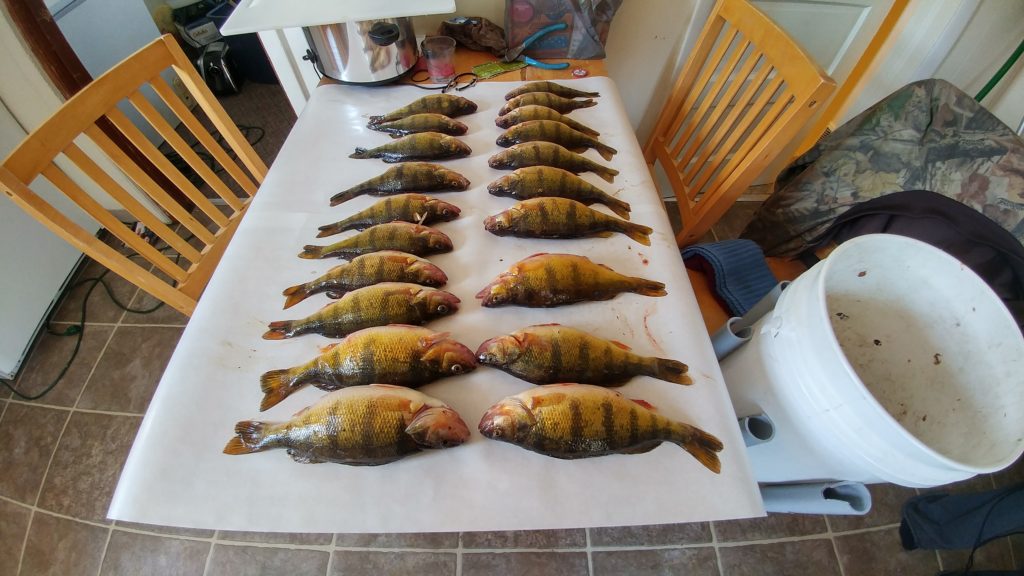 You, like me last year, have a 9-5 grind during the week.  Your working hours are consumed with visions of a Devils Lake Gold Mine Smack Down.  If you just didn't have that pesky job.  Come the weekend though, you are on the ice, beginning your search.  Problem is, you are 5 days removed from where you finally found them last Sunday, and they moved.  There is also a small town of huts located on your Sunday Honey hole.  What is a guy to do.  You only have 48 hours of fish time before you are back to work.  This is where our Silver Membership is perfect for you.  Let us track the fish movements during the week so that when you are off on the weekend, you don't have to waste time re-finding fish.  You can hit the ice running and put yourself on the active school, immediately upon arriving on the ice:
Winter Months Construction Worker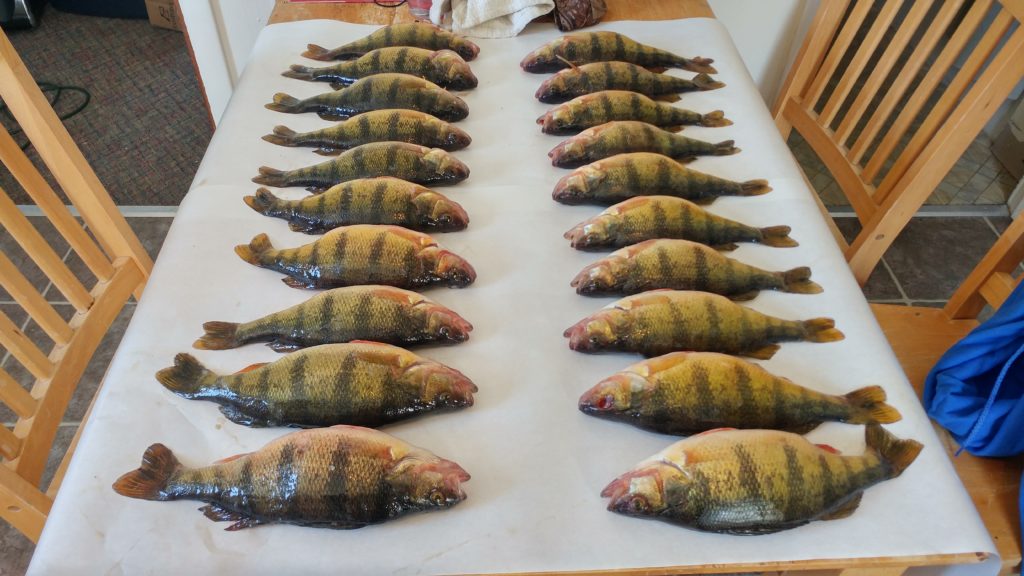 You bust your hump over the Spring, Summer, and Fall months working construction.  Getting in as many hours as you can before freeze us and the inevitable day that the boss says:
That's It Boys!
Now you are laid off for the Winter.  You occupy your Winter months with Ice time and Coyote hunting.
Perfect!!
We can fill your 'unemployment' hours with Gold and Diamond Mine bliss on the ice.
Take $350.00 out of that Summer Overtime Stash and receive constant updates of the bite as you will receive almost daily Waypoint packages.
Bachelor Party Crew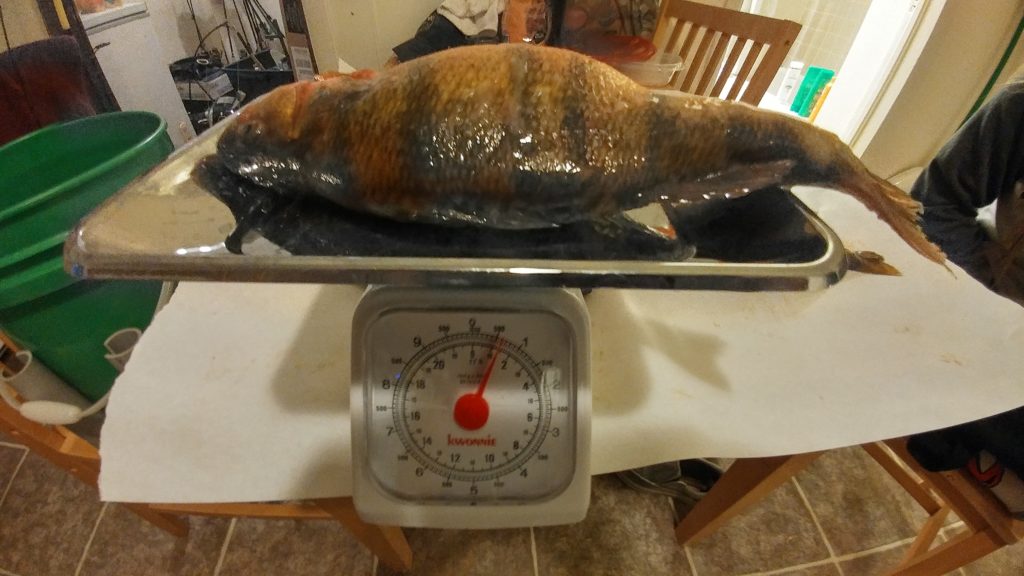 Your crew is losing one of the buddies to Wedded Bliss.  You have all decided Vegas is too cliché and the bride-to-be said:
NO STRIPPERS!
Your crew decided to book one of Woodland Resorts Legendary Suites and the boys are gonna hit the ice and the bar for an Ice Fishing Weekend.
Prove to the ladies at home that:
Yes, we did actually fish!
By bringing home bag after bag of Golden Jumbo Perch Filets.  Our Copper membership, garnering you One Month of DLFR Waypoints is EXACTLY what you need:
Far Away Tourist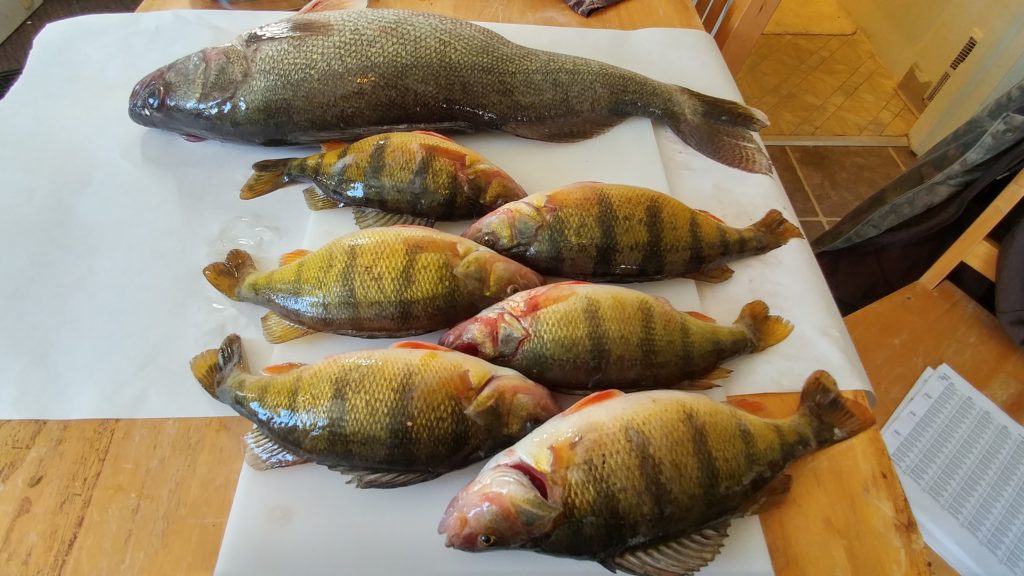 Your coming from out of town for your ONE Winter Outdoor's Trip.  You have 16 hours to drive, left with 2.5 days of fishing before it is back in the truck for that grueling 16-hour drive.  You have seen the Midwest Outdoors shows on Devils Lake Jumbo Perch and they make it look so easy.  You show up, hit the ice and realize:
Holy Smokes, this thing is HUGE, where do we start??!!
Have no fear, by purchasing a Copper Membership 3-weeks ago, you have a pocketful of fishing spots already logged into your GPS and you can hit the ground running.  No reason to be overwhelmed.  Just maximize your short fishing window by being put on the fish immediately:
Local Die Hard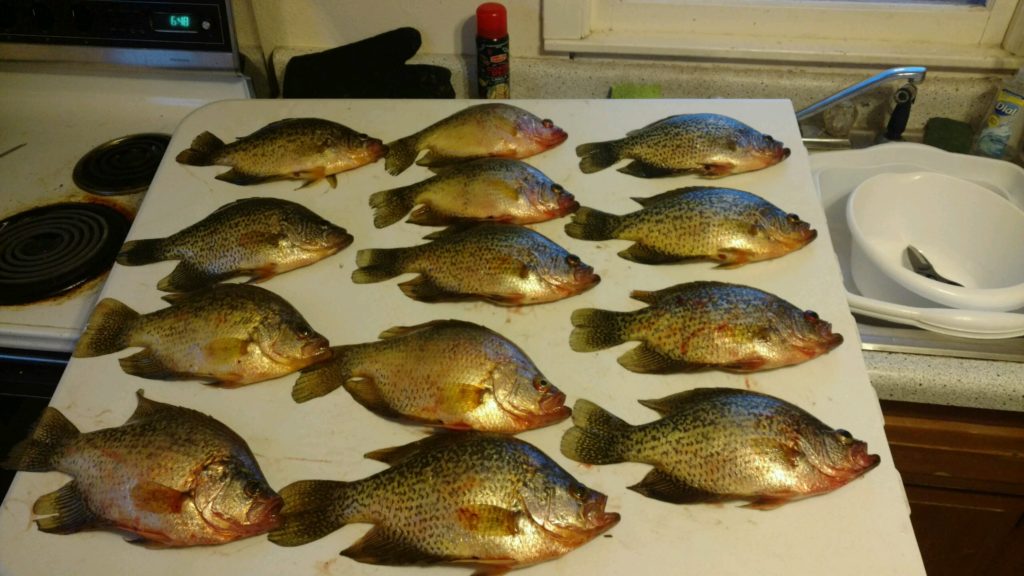 You are like I was, you fish Devils Lake religiously as you only live 20-minutes from the big lake.  Every free minute is spent on the ice.  You have hit a dry spell and just can't seem to find the fish again.  You need a little push in the right direction.  Have no fear, we can help.  The Silver Membership will eliminate those mid-winter lulls:
Too Old To Search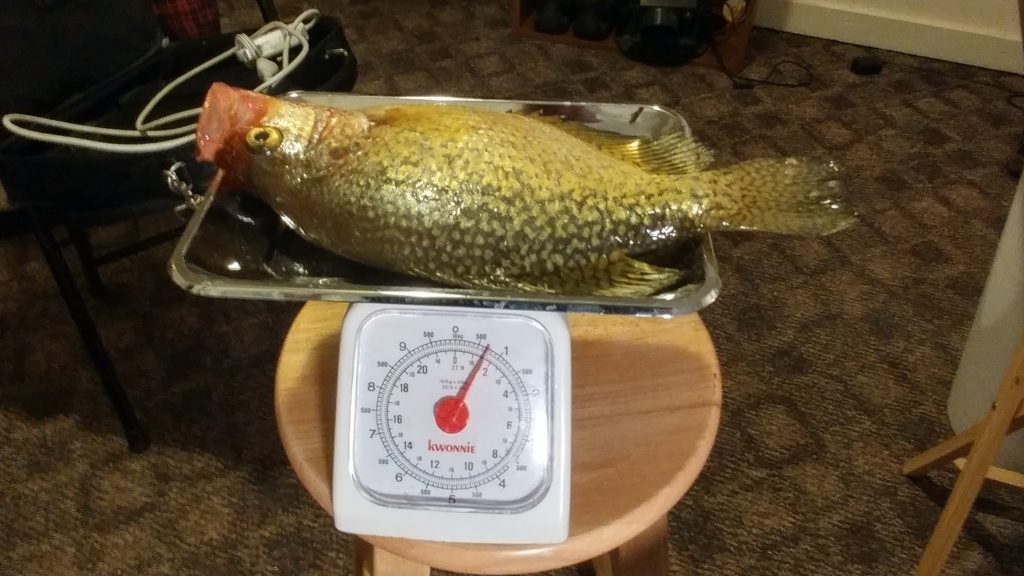 Father time has caught up to you.  Drilling 100 holes in searching for your DL Gold Mine is out of the question.  You still love ice fishing but due to the size of The Big Devil, you just can't conceivably cover enough ground.  Let your years of working finally pay off for you in the purchasing of a DLFR Silver membership and let us do the searching for you:
Independent Guide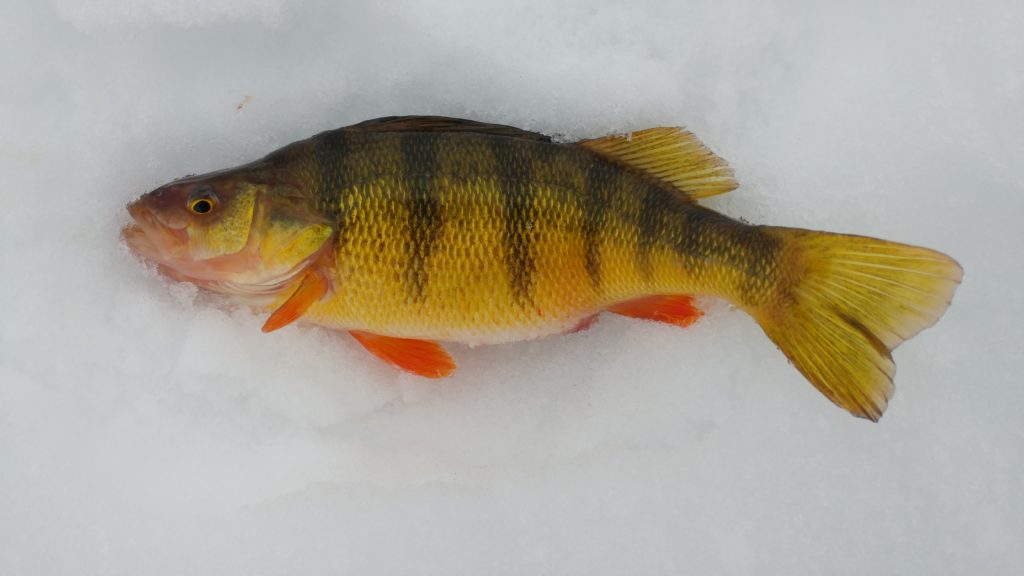 There are a lot of 'Guides' out there.  Some good, some bad, some in between.  To be honest, to effectively guide on Devils Lake, you need a network.  Either be on the staff of many other guides, have A LOT of friends that help you out, or utilize your frowned upon pair of binoculars and be 'that guy'.  You don't ever have to be 'that guy' again.  By purchasing a DLFR Silver Membership, you have just added to your network of information in keeping your clients on the bite:
Good Luck Out There!
Hold On To Your Rod!!
And…
Turn Fishing Into Catching
With…
DevilsLakeFishingReport!!