Heck, We Are Always Thinking About Ice Fishing And The Hardwater!!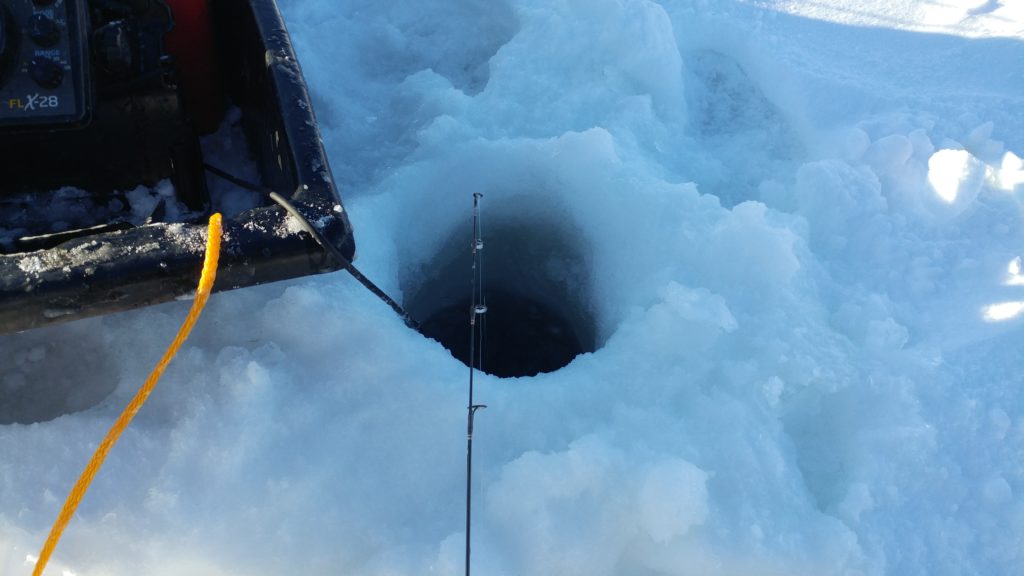 With our average starting date of November 25th, our target date for walking out on to the ice is only 85 days away, and we are always looking forward to it. We are especially excited about this year's Ice Season as there are numerous developments for us here at DevilsLakeFishingReport, some I can name and some I can't, YET!!
For one, we won't have to worry about missing out on extended periods of time off the ice because of 'work', because, well, now this is the work!
We expect to spend 6-7 days a week on the ice so no more gaps in offerings, no more lapses in reports, no more wasted days because we lost the bite because we missed out on a couple of days of fish movement.  We will be out there almost everyday and will be offering everything we find on www.devilslakefishingreport.com under the daily posts and will have it all cataloged under Ice Waypoints.
Don't Want To Miss "ANY" Of It?!?
You now, don't have to.  There are still Platinum Memberships left, they get you every Waypoint for the entire year.
DLFR Platinum Membership
With a platinum membership goes the whole deal.
Every Waypoint that we log in the Summer AND Winter ($1150 value last year, will roughly triple this year) will be sent directly to you upon logging them in the computer.  No more need to purchase waypoints, they will go to you automatically.
Consultations- with this level membership we will consult with you by email, phone, or in person at a sit down meeting and give you everything we have for when and where you want to fish.  You will have full access.
Elite Reports- our weekly elite reports will also be sent directly to you.
Year in review- our year in review packages from Summer 2016 and Winter 2016-2017 will be sent to you directly as you purchase your membership.
There are still a few Silver Memberships left as well but those are going fast and if you are a dedicated Ice Fisherman, now is the time to scoop one of those up.  You won't be disappointed in what a Silver Membership has to offer.
DLFR Silver Membership
This one is for the Ice Addicts.  The Silver Membership will cover the 2017-2018 Hardwater season.
All the benefits of the Platinum membership for Ice Fishing only.
Every Ice Fishing Waypoint we logged in 2016-2017 will be sent directly
Traveling From Afar
We recognize that some of you travel a great distance and only once a year.  Waypoints from December are going to ddo you little good in late February.  Have no fear we have the membership for you.  The Copper Membership offers you one month of waypoints sent directly to you upon logging them into our system.  How should you use this.  Mark the date of your trip on your calendar, count back 30-days from the last day of your trip.  Buy the Copper Membership to begin on that day.  You will receive all Waypoints leading up to the last day of your trip, automatically.
Hardwater Guided Trips
We will be offering Guided Trips onto the Ice Shelf this winter.  Most services don't start venturing out until after Christmas for various reasons.  Not the case with us.  We will start venturing ourselves onto 3-4 inches of ice and invite you to come along for the Ice Bending Ride.  We will open our Ice Trips December 15th and won't Stop until the Ice Shelf is no longer safe to walk on, most likely Late March or Early April.  We have only Ice Fished the month of May once so….
Booking with us is very easy and can be done in two ways:
A.  You can book online by hitting the tab below that goes with the number of days you wish to fish with us.  You will receive a confirmation letter by email and shortly after will receive an email and then phone call from us to discuss the specifics of your trip.  The rate for a daily trip with us is $125.00.  That includes transport to and from our spots, equipment, ice shelters, Flashers (this one isn't finalized yet as to what brand we will be running), rods, bait, everything needed to put Walleye and Perch on the ice.  A $25 per day nonrefundable deposit is required upon booking your trip.
(Any trips longer than 3-days must be booked by phone call only, 701-351-6414)
B.  You can book by calling 701-351-6414 and we will discuss your trip over the phone.
Good Luck Out There!
Hold On To Your Rod!!
And
Turn Fishing Into Catching
With
DevilsLakeFishingReport!!