The Chamber Tournament As A Measuring Stick Of Lake Health
We looked back 5 years yesterday at the winning weights, upon further investigation and help from the Devils Lake Chamber, we delve deeper, going back 20 years and also looking at the weights of the largest walleyes caught for each tournament.
Winning Weights were:
1996:  32.11
1997:  36.82
1998:  28.21
1999:  47.87
2000:  36.68
2001:  46.52
2002:  51.41
2003:  37.62
2004:  45.77
2005:  35.97
2006:  35.97
2007:  44.22
2008:  25.55
2009:  20.85
2010:  44.54
2011: 33.01
2012: 40.00
2013: 48.52
2014: 45.84
2015: 47.99
These totals give us a 20 year grand total of 785.47 pounds producing a 39.27 pound average of a winning weight.
Going with those totals the +/- for each year above and below the 5 year average is:
1996:  32.11/-7.16
1997:  36.82/-2.45
1998:  28.21/-11.06
1999:  47.87/+8.6
2000:  36.68/-2.59
2001:  46.52/+7.25
2002:  51.41/+12.14
2003:  37.62/-1.65
2004:  45.77/+6.5
2005:  35.97/-3.3
2006:  35.97/-3.3
2007:  44.22/+4.95
2008:  25.55/-13.72
2009:  20.85/-18.42
2010:  44.54/+5.27
2011- 33.01/-6.26
2012: 40.00/+0.73
2013: 48.52/+9.25
2014: 45.84/+6.57
2015: 47.99/+8.72
At first glance this shows that fishing is getting better, not worse.
But if we dig deeper, and take the total weights of the largest walleyes caught for each tournament:
1996:  7.47
1997:  9.25
1998:  8.55
1999:  9.89
2000:  9.19
2001:  8.06
2002:  8.84
2003:  8.55
2004:  8.59
2005:  7.84
2006:  N/A
2007:  N/A
2008:  6.85
2009:  6.64
2010:  8.99
2011:  8.52
2012:  8.17
2013:  7.76
2014:  N/A
2015:  7.83
Total weight of the 17 largest Walleyes over the last 20 years is 140.99 pounds giving us an average of 8.29 pounds.
And then look at the +/- over or under the 20 year average:
1996:  7.47/-0.82
1997:  9.25/+0.96
1998:  8.55/+0.26
1999:  9.89/+1.6
2000:  9.19/+0.9
2001:  8.06/-0.23
2002:  8.84/+0.55
2003:  8.55/+0.26
2004:  8.59/+0.3
2005:  7.84/-0.45
2006:  N/A
2007:  N/A
2008:  6.85/-1.44
2009:  6.64/-1.65
2010:  8.99/+0.7
2011:  8.52/+0.23
2012:  8.17/-0.12
2013:  7.76/-0.53
2014:  N/A
2015:  7.83/-0.46
(A big thanks to Suzie Kenner and Tanner Cherney from the Devils Lake Chamber for getting us this information, they were very helpful and gracious in meeting our request)
So what does all of that data tell us?
It tells us that I really hate Math and there is a reason I am not a statistician!!
Other than that, it tells me that years ago there may have been more bigger, trophy class fish.  However, it also tells me that right now, there are a lot more good sized fish.  The same thing that the Game and Fish has been telling us.  The data doesn't lie.  It removes emotion.  What would you rather have, more Trophy fish but fewer fish overall, or more fish.
I'll let you our readers be the judge.  Tell us what you think.
Relevant Information To Preclude Our 'Preparing For Open Water Parts I – V'
The Devils Lake Ledge
(Originally posted July 27th , 2016)
I talk about Devils Lake ledges a lot. These ledges hold a lot of fish. Some of them are pretty narrow while others are quite wide and form nice fish holding flats over steep drops. These are the spots that later in the summer and most of the winter, we target for Walleyes and Perch.
A Devils Lake chip is almost a must in order to stay on these fish holding spots. I would be lost with out my Lowrance GPS and chip.
Why these distinct ledges? Devils Lake is basically ringed with 3 of these ledges at 3 different water levels and therefore, 3 different water temperature zones. At different times in the year, each ledge will become a little more attractive to fish as the temperature rises and later in the fall as the temperature drops.
Knowing when to target each ledge level is vital to fishing success. As I will explain next, these ledges are old shorelines that were engulfed by rising water and have now become target Walleye and Perch ambush spots.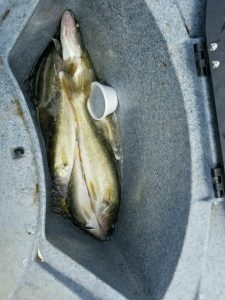 Devils Lake Explained
 The Big Devil, there are many reasons why the waters of Devils Lake have earned that term, from the speed at which the waters can become giant waves when inclement weather hits the Big Devil to how it has swallowed up 1000's of acres of land in the Northern Tier of North Dakota.
In 1991, Lake Irvine was a dry lakebed; the Fish and Wildlife service was creating duck nesting islands on the lakebed of Lake Alice. The main water of Devils Lake tipped the scales at approximately 41,000 acres and was salty brine that harbored fishable numbers of walleye, pike, perch, and white bass, but was far from the world-class fishery that it is today.
Many were concerned about the long-term survivability of the lake. Some on the East end contemplated the idea of cutting off water flow to preserve the East End. The Golden Highway was still a road leading to Minnewauken.
Then came the winter, spring, and summer of 1993 and the year of 1997. The floodgates opened and catastrophic flooding hit the Big Devil. People along the lake literally packed their bags and left, fleeing homes that were being swallowed up by the hour. Roads were flooded, farmland was lost, and everything around the lake was left to the rapidly rising water.
Devils Lake is a unique situation. It is what is referred to as a 'closed basin', much like the Great Salt Lake. There are 2 coulees that feed it with winter runoff and spring rains from as far north as the Canadian border. During the drought years of the 80's, these coulee beds were dry and the waters of Devils Lake were receding. With the onslaught of a wet cycle that is still in play, these coulees filled and brought with them an influx of fresh water.
From 1993 to the present, Devils Lake has expanded from a Salt Brine slough to a fertile inland sea of over 250,000 acres. With the rising waters came rising hatch numbers. Fertile new waters where natural reproduction of all fish species exploded. Newly flooded, standing timber presented a virtual living nursery to Devils Lake's primary forage, the freshwater shrimp.
With endless habitat and all you can eat seafood buffet, Pike, Walleye, and White Bass numbers quickly caught up to the size of the lake. Tying up to a tree and slip bobbering for Walleyes in amongst the flooded timber was the go to method and almost every tournament on the Big Devil was won in 2-5 feet of flooded timber with slip bobbers.
The epic perch numbers of the 1980's have not fully returned, but they are on the comeback and starting to multiply filling in their place on the lake. In 2000, if you came in with 5 Perch, EVERYONE wanted to know where you got them. Today, on the ice, 5 perch is a pretty ho hum day.
Over time, those trees rotted and fell, presenting ever more fishable habitat. Most of that flooded timber is gone now, all's that is left is logs on the bottom of the lake, and some are reappearing as the waters slowly recede. Flooded timber slip bobbers no longer rule the tournaments and many anglers have had to adjust their techniques.
Most notable of this change is that while many do still slip bobber and jig some sort of wooded bottom; pitching cranks, trolling, and snap jigging have become the nom de plume on Devils Lake.
Guided Fishing The DLFR Way
We are now offering the chance for you to fish with us here at DevilsLakeFishingReport.  We are not your run-of-the-mill guide service.  We aren't about filling your limit quick and getting off the water.  We are about exploring Devils Lake and giving you the www.devilslakefishingreport.com experience.  We fish Walleyes in the summer of course, however, at heart we are Perch Hunters.  We always will be! We will spend hours both with clients and by ourselves searching out new areas and new techniques to put Perch in the boat, and it can be done in open water on the Big Devil.  We have proven it
time…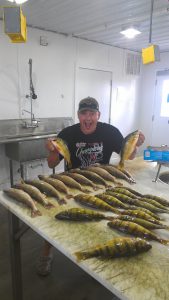 after time…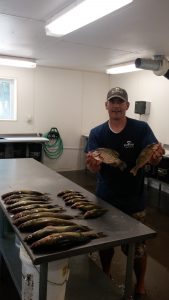 after time…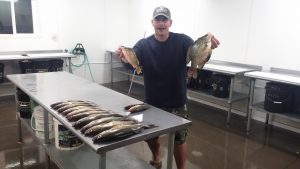 after time…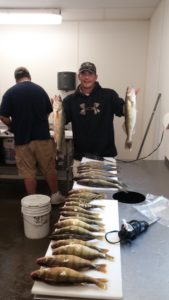 after time!!!!
To look into this experience just go to our link on the left hand side of the homepage or click the link:
Good Luck Out There!
And…