Normally We Are Winding Down
Getting Geared Up For Canada Geese
With the late Spring, late hatch, and late harvest; we are still whittling away at as many Walleyes and Perch that we can put topside before some Barley and Wheat fields can be cut and those Canadas start to fly. Works out perfect for us because I think we miss out on some pretty spectacular fishing when we would normally be out trying to entice some B52's to come within shooting range.
I know we usually miss some pretty good late Summer Perch fishing, and that seems to be just starting, as evidenced by some days we have had recently: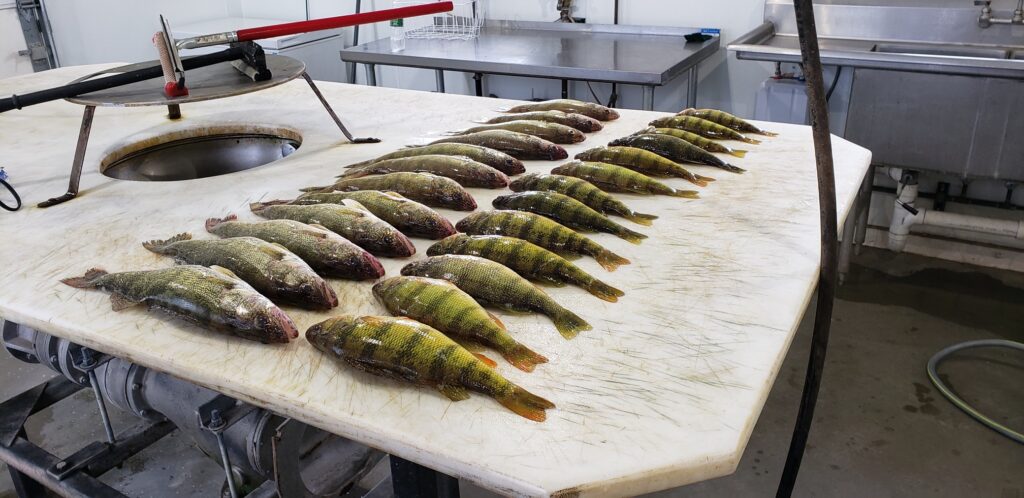 Those big Perch were just starting to show some development of egg sacs and with that, they will be really starting to put on the feed bag over the next couple of months.
Also, some awesome Walleye fishing to be had all across the fishery. Bug hatches and cold fronts will put some breaks on them a little bit, but for the most part the bite has remained strong and there are plenty of keepable sized Walleyes in the fishery and many of them are more than willing to hit that spinner with a worm or a crank bait trailed behind some lead core.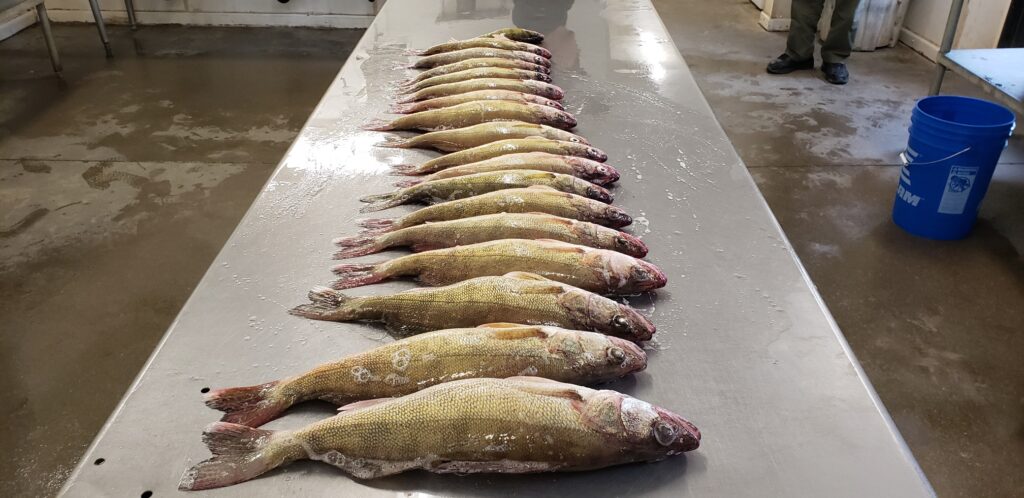 One thing that we have seen lately, is that fish that one day are hitting crank baits, the next day they want worms. If you are running over a bunch of fish that just aren't biting on what you are presenting them to, be willing to switch your presentation up a little bit and you just might be surprised at how effective it is. Last week we crushed some fish on lead core in 21-23 feet of water, went back the next day and they wouldn't touch us, switched it up with spinners and worms and got some action out of them.
Depths
While we usually would be starting at 26 feet and moving deeper from there during a normal year, we are finding ourselves starting in 15-18 feet and topping out at 26ish feet. We just haven't had activity very much, aside from a couple very sporadic days, out in that deep, abyss depth.
Just seems like everything we have going on out there is revolving around that old shoreline on the Google Image from 1991. Start on that white line and zig zag back and forth over that line until you you establish that depth in which you are seeing the most fish activity and stay on that until you have the desired number of fish.
Road Beds!
Another really popular hangout right now, especially for some bigger fish is on and around some of those sunken roadbeds, especially in the western portion of the lake. Whether you hit them with spinners or cranks, it seems like a lot of our early morning fish are coming on top of those roads.
Colors
This still seems to be very day to day but some color bases that have really worked for us lately are:
Whites
Greens
Chartreuses
Oranges
Most will also have some sort of stripe whether it be one of the metallic or a combination of two of those colors. Establishing the color for the day often involves some experimentation. Having as many rods in the water as possible is ideal until you have established a color that is getting the most hits and the most fish. We will have 3 fishermen in the boat tomorrow and I will be deploying 6 rods at the onset to try to establish that 'hot color'.
Good Luck out there!
DevilsLakeFishingReport!
Fishing Into Catching!

Since 2016!