Lead Core To Spinners "Ping Pong"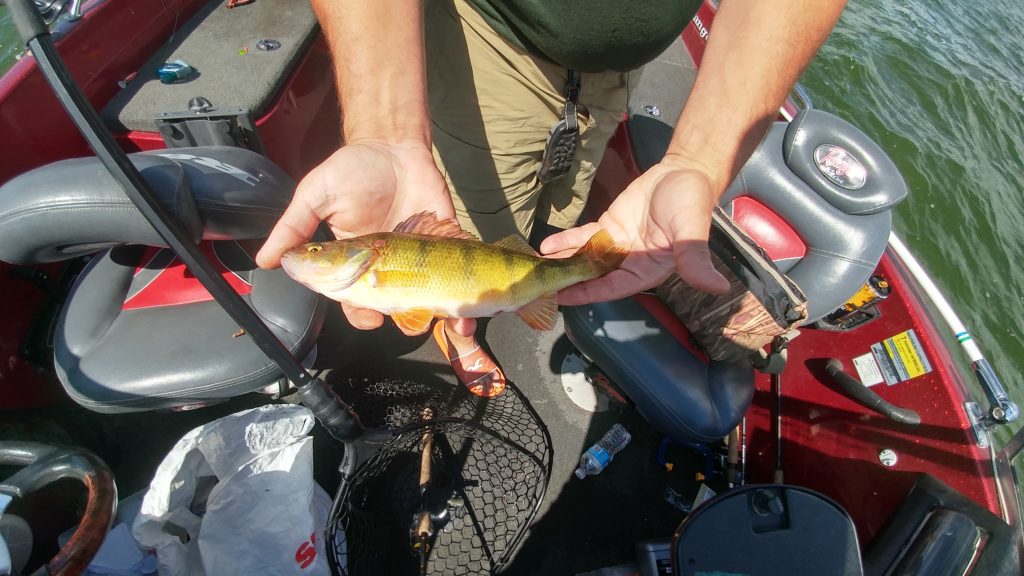 Lead Core Pulling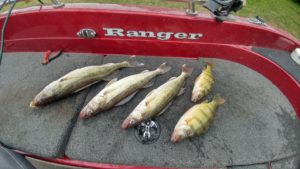 I have stated many times in these pages that pulling #4 and #5 Salmos behind lead core is probably my 2nd favorite way of fishing and that is not without reason.  The benefits of pulling lead core on Devils Lake in the late 'dog days' of summer and the early days of autumn are many.
You can cruise- most times we are trucking along at 1.8 to 2.5 miles per hour.  When searching out those schools of Walleye and Perch in deep water, covering ground is important.  The ability to kick it up a notch on the throttle allows us to eliminate the maximum amount of water in the most minimal amount of time.
Avoid snags easier-  when a bramble patch or evident tree shows up on the electronics, just put the throttle down for a little bit.   That added speed just raises our lures up off the bottom to avoid snagging.  It is easy and something that you just can't do with bottom bouncers without reeling in.  It allows us to keep our lures in the strike zone longer and keep lures attached to our line for a longer period of time.
Tighter turns-  lead core follows that boat in a way that allows us to make much tighter turns than possible with bottom bouncers and spinners or long line.  Those tighter turns let us stay on discovered fish schools longer and eliminates a lot of time making wide turns and therefore getting outside of the strike zone for too much time.
Those three factors make pulling lead core THE option for searching for fish in August, September, and October.  Electronics are great and assist us at all times finding fish, the lead core tells us if those located fish are biting or not.
Playing With Worms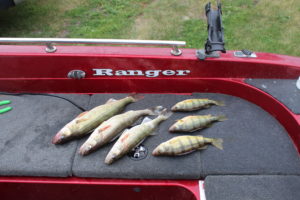 Once we locate those Perch and Walleye schools that are active but we want to slow it down a little bit, we break out the crawlers and slow it down a bit.  To do so, we break out the 2 oz.  bottom bouncers and spinners with crawler harnesses.  Often times, we can locate a Perch school with the lead core.  Picking up bigger numbers of Perch though, might require the need to move through them a little slower.
We do so by putting our spinner arsenal to work.  The sheer number of tappy-taps on the end of our rods can be unbelievable at times and shows the massive numbers of fish swimming the waters of Devils Lake.
We are using both techniques right now to put fish in the boat.  Sometimes we stick to one, other times we use both techniques in tandem to locate and then hammer on the willing numbers of Walleyes and Perch.
Where To Deploy
I might start to sound like a broken record when talking about depths and where to find fish on Devils Lake right now.  We have not had to leave those 20-30 foot old shoreline shelves, tear drops, points, and structured flats.
Yesterday, we pulled an old shoreline in 20-26 feet of water and that ledge was absolutely peppered with fish arcs on the electronics.  Many of them were willing biters and our 2-person limit was acquired in a short window of time.  We also caught and released 50+ fish on that shoreline ledge and missed many more hits.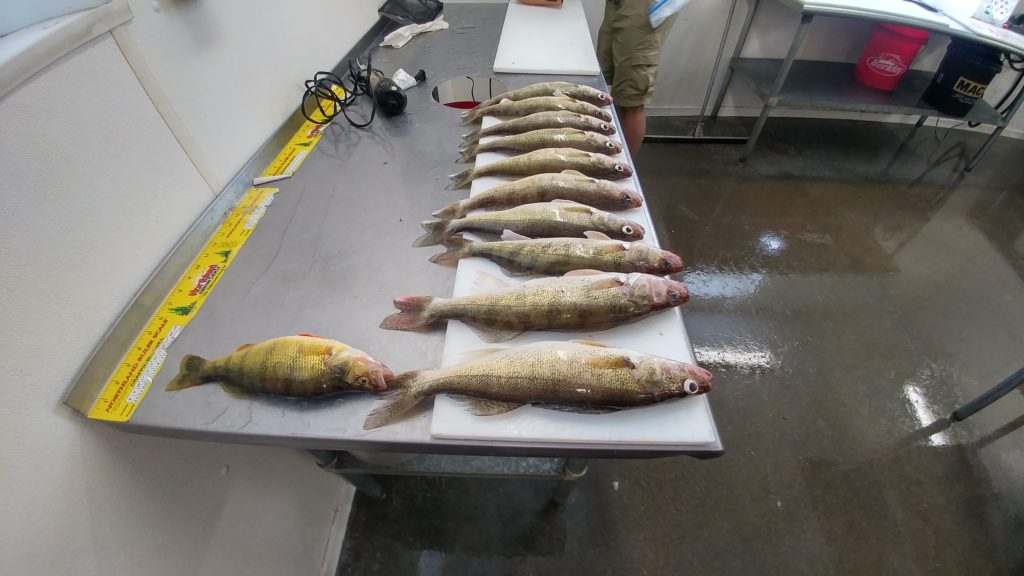 Colors
Lately, the go to colors of spinners have been chartreuse, chartreuse and orange, metallic yellow, and dimpled gold.  Most of our fish yesterday came on something with chartreuse.  Sometimes colors differ from day to day but those shades have been pretty consistent all year.
Salmo Colors
This is a 3 headed monster so far this year.  The 'dog', the Dalmatian, has of course been a popular one with us and more importantly the fish.  The other two that have been very effective for us this year are the 'Blue and Chrome' and 'Gold and Black'.
The Northern Tier "NO OFF-SEASON" Effect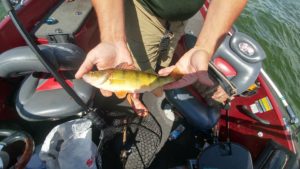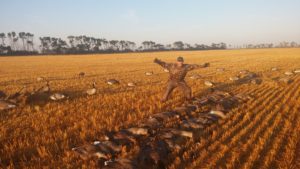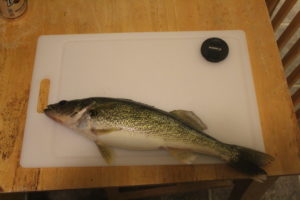 As of tomorrow, our schedule gets even THAT much busier.  August 15th is the Early Canada Goose Opener here in North Dakota.  It is going to be a struggle to get it all in over a roughly 12-hour period.  We will give it the ole college try though.  Shootin' B52's in the morning and landing Walleyes and Devils Lake Gold Jumbo Perch in the afternoon, an outdoorsman's dream.
Looking To Get In On The NO-OFF Season, Cast and Blast Action
Being a resident of the Lake Region and the Northern Tier, we get to partake in this activity all the time.  If it is something that you think you would like to  participate in, give us a call.  You can line  up a 'Cast and Blast' vacation with AllFlockedUp Outdoors and DevilsLakeFishingReport by calling Eric at 701-230-9173.
If you want to add the chance at some Mallard green to your bag in the morning and the later fall Mega Perch schools and pre-ice feeding Walleyes, call Northern Flight Guide service at 701-662-5996.  Both opportunities are an outdoorman's dream vacation.
Never Too Early To Think About The Hardwater
 Ice Fishing is one of those 'addictive' things.  Like shooting Ducks, Cranes, and Geese; drilling on the hardwater is never far from our minds, even on 80 degree August days.  We are constantly planning, researching, collating, doing anything and everything possible to become better Ice Fishermen.  We will be offering Guided Trips to go along with our Waypoint Packages this winter.  We will be limiting this to 3 days a week so slots will be limited.  We do this for two reasons.
We don't believe guiding everyday effectively offers you a quality trip
Our members deserve the maximum amount of effort from us to make their memberships worth every penny.
We will begin walking out on thin ice as early as December 15th and hopefully driving by Christmas.  Rates are $125.00 per day per person with a maximum number of people slotted at 4.  We will entertain half days on a restricted basis.
Also:
Silver memberships are available for $350 dollars.  The Silver package gets you EVERY waypoint that we will log this winter.
To schedule your trip or gain more information on any of our Winter offerings, call 701-351-6414.
Greatest Season To Be Alive
Beginning tomorrow and carrying out to next March, the outdoors opportunities that we are presented with here on the Northern Tier of North Dakota is the reason we have called the Lake Region home for 37 of our 42 years of life.  There is nowhere else in the world I want to call home and no where else in the word that feels 'just right'.
Don't miss out on this wonderful time, a time that truly can only be described as:
'LEGENDARY'!
Hold On To Your Rod!!
And
Turn Fishing Into Catching!!
With
DevilsLakeFishingReport!!