OOOOOOOH BOY!!!!!!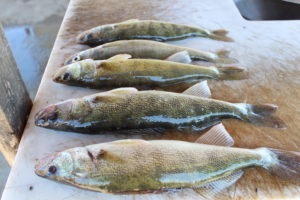 What a wonderful time, late Summer.  The heavy dew in the a.m., the sound of Honkers starting to stretch their fledgling wings, the snap of Trolling rods under the weight of keeper eyes.  It is a great time to be alive in the Lake Region and on the Northern Tier of North Dakota.  This time of year is what truly makes us:
LEGENDARY!!
If you have never experienced North Dakota and Devil Lake in the late summer or early fall, we strongly encourage you to schedule a trip.  This Outdoorsman's Paradise comes into full plumage in August, September, October, and November.



About that dew!
I am a big fan of Crocs.  I have the Croc Tan and have numerous pairs.  If that makes me a loser, then lose away I will.  Couple years ago, on the opener of Early Honker season, I decided, it being 80 degrees and all, I would forgo the Hunting boots and attempt to aerate my feet by wearing Crocs into the field.  I did not predict the level of dew in the stubble and before we were even a quarter done setting up our spread; my feet, socks, and Crocs were soaked.  Lesson learned and I express to you our viewers:
Never, ever, ever wear Crocs out Waterfowl hunting, DON'T DO IT!!!!!

Lead Ain't Just For Pencils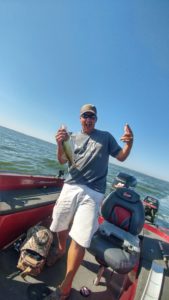 I am a huge lead core fan, probably my second favorite way to fish.  The extreme number of fish we have been putting in the boat the last 2 weeks pulling Salmos, Flicker Minnows, and Scatter Raps is amazing.  Not all are keepers and not all of the non-keepers are small, some too big.  Pick a ledge, set a course, and run until you hit a school and grind on them.  It seems the Walleyes are everywhere and every ledge we try has some size of Walleyes on them.  You can cover more ground with Lead Core over spinners and the tighter turning ability really allows you to stay on top of the active school.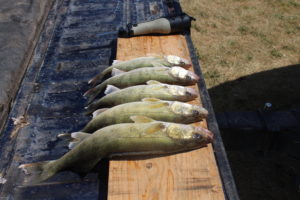 Bang Those Rocks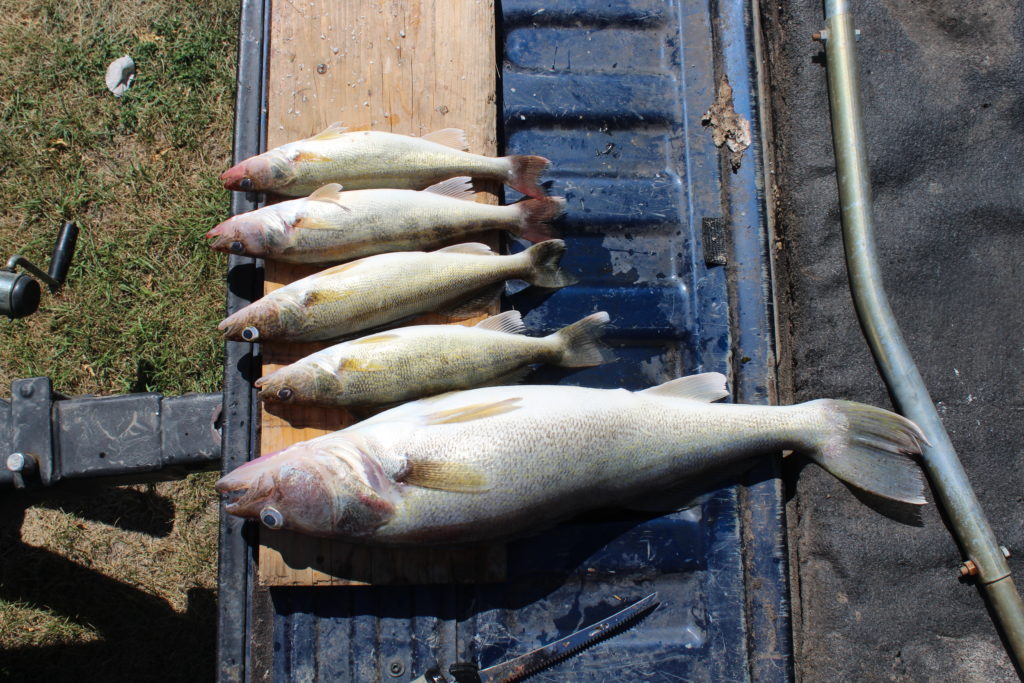 Lots of fish are starting to stack up on Devils Lake's numerous, deep rock piles.  Either pull some spinners over them, pull lead core around them, or snap jig the tops.  Not only are some of this fish on these deep rocks there to feed, there are some true Devils Lake lunkers out there to be had.  Some of our bigger Walleyes recently have come from these submerged rocks.  We have lost some tackle doing so, but pulling Lead Core around these submerged rocks can be exhilarating.
Wet Your Worm!!

If you are like us and want to target a Devils Lake Gold Mine, get out the spinners, attach a worm and start trolling old shorelines and submerged structure in 20-30 feet of water.  That half of a worm on a #1, #0, and #00 spinner is just too tantalizing for these tasty morsels.  We have a strong year class of 9-11 inch Perch in the lake right now and they are starting their pre-fall feed.
The Attack Of The Juvenile Whitey's

Two and three years ago, these little buggers had an awesome spawn.  Everywhere we go, we find these things.  They are right in with the Walleyes and some days they are so much more active that we can't keep them off the hook.  A few days, we couldn't even get our Salmos back to the set distance before we had hooked up to 2, 3, and even 4 of these guys!  A few times we have had to put on much bigger lures and when they still hit those, we have even had to move to get away from them.  Imagine that, moving cause you are catching TOO MANY fish, only on the Big Devil!!
Cast And Blast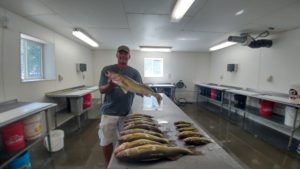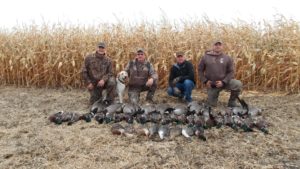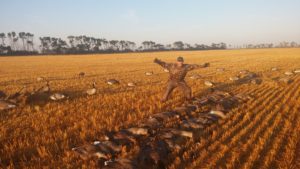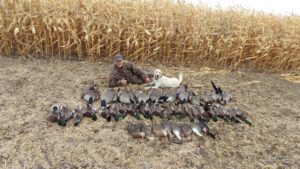 One of the opportunities late summer and early fall brings to us here in Devils Lake is the unique opportunity to partake in and offer the North Dakota Cast and Blast Experience.  Hunt in the morning, fish in the afternoon:
An Outdoorsman's Dream!
From August 15th through Mid-October, the weather is perfect!  The Geese, Ducks, and Cranes are plentiful; and the Walleyes and Perch are on a feeding frenzy.  I can't think of any other way to spend a late summer or fall day.
If you are interested in joining us for the Cast, the Blast, or the 'CAST AND BLAST', there is no better time than right now to book your trip.
For Early Canadas, AllFlockedUp Outoors is where it is at!  Call Eric at 701-230-9173, there are still dates available throughout the Early Canada season.
For a Regular Waterfowl Season hunt, Northern Flight Guide Service still has a few openings left and is the premier Waterfowl Guide service in the Lake Region.  Call Woodland Resort at 701-662-5996 for availability and scheduling.  Tell 'em DevilsLakeFishingReport sent ya!
For your fishing needs, DevilsLakeFishingReport will still offer Guiding services through the end of open water fishing.  You need to call for availability and scheduling and that number is:
701-351-6414!
DLFR Guided Customer Feature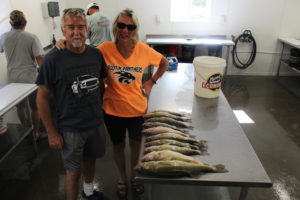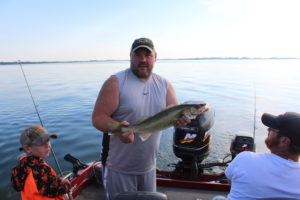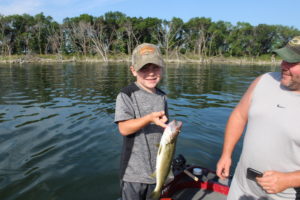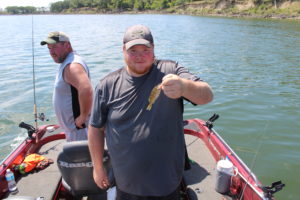 The Greatest Season Of The Year Is Upon Us
Hold On To Your Rod!!
And…
Turn Fishing Into Catching!!
With…
DevilsLakeFishingReport!!