Failed Attempt at a Bull Can Has Me Reminiscing Again About Another 'Out of My Element' Hunt
I am a field hunter when it comes to Waterfowl, we leave the bedroom alone. Let em rest. Get em when they come to feed! Any hunt not in a wheat/barley, soybean, or corn field for me is kind of outside the norm.  We have a strict rule on the Pridelands when it comes to the water, "don't hunt it unless ALL other avenues have been exhausted".
We have an ethical and preservation purpose when it comes to this philosophy.  If you leave em on the water instead of blasting them out of their bedroom they stay longer.
On Friday, however, I had a chance that I could not pass up.  "The King of Ducks", Canvasbacks, a whole bunch of them had moved into the slough adjacent to my mother's farm house.  THIS SLOUGH IS NOT A ROOST, let me clarify that before you think I become a hypocrite.
The King of Ducks
I decided to try a sneak attack on this pod of "Bull Cans" with the hopes of getting in range of a wall mounter.  I am obviously not the stealthiest person in the world as when I got to my selected ambush clump of cattails, the Cans had swam to the other side of the slough, well out of ethical shotgun range.  Needing to get back to the house for lunch, I decided to peer through the cattails to see if any ducks had remained on my side even though it must have sounded like a herd of water buffalo stampeding as I tramped my trail.
Lo and behold, right in front of me, this gem of a diver hunters dream (insert sarcasm), a drake Ring-Billed Duck (yeah, I know, Ring-Necked, but Ring-Billed is so much more appropriate).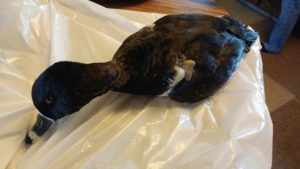 He was quickly dispatched and now resides in my freezer, awaiting a trip to the taxidermist.  Even though for a true diver hunter this may not be a trophy, to this field hunter, just the experience is worth putting him on the wall to preserve the memory.
I told you that story to lead in to the next one.  I am comfortable in the grain field setting up decoys to try to lure in Mallards, Pintails, Honkers, Snows, and other dabbling/field feeding fowl, can't forget my favorite, the Wigeon.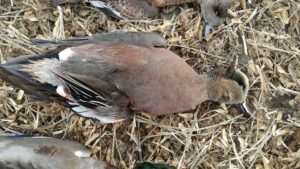 I am out of my element when you put waders on me.
I am also extremely out of my element when asked to sit in a tree stand.  Not that I don't enjoy just hunting in general, but in both of these instances I am not the teacher but the student.  So, I share with you another situation in which I was TOTALLY a novice and needed as much instruction as possible.
The rest of the tale………….
Stay Tuned!